The Brazilians knowledge of Stamford Bridge will prove useful, but theres little doubt Paris Saint-Germain were happy to recoup some of their money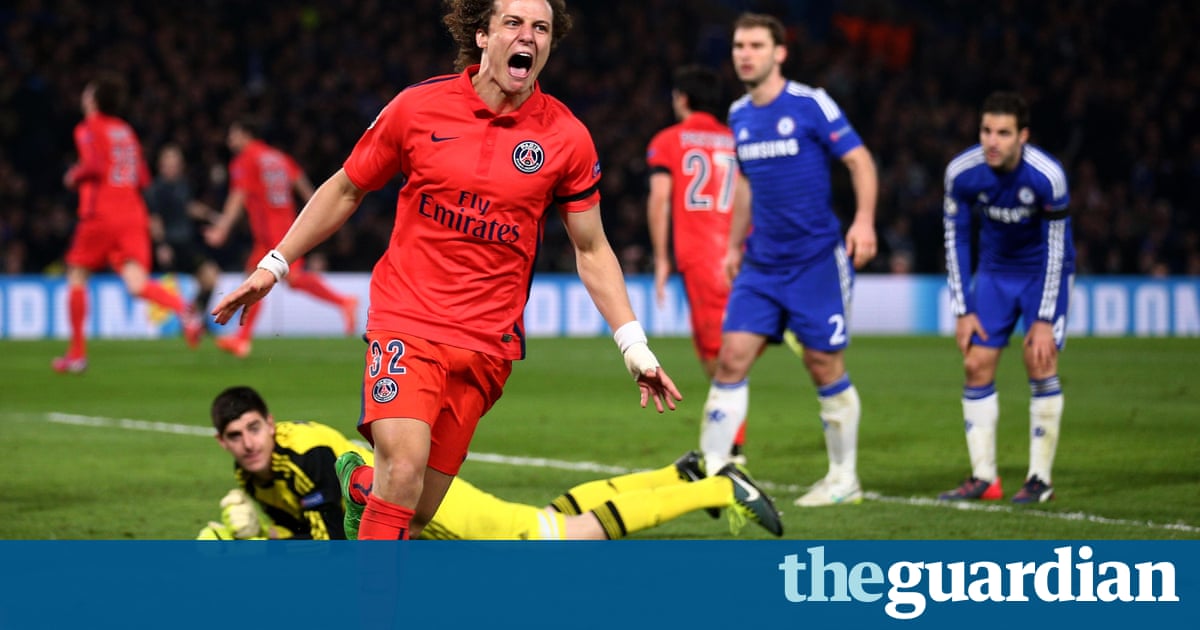 The first thing to acknowledge is the impact of David Luizs second coming at Chelsea will not just be felt out on the pitch. The Brazilian will inject charisma into team and dressing room, livening up Cobham and reminding a squad still haunted by last years torrid title defence of the spirit that claimed the European Cup and Europa League only a few years ago. The self-styled social media #geezer had been integral to both successes. It will be refreshing to hear his raucous laughter echoing round the corridors of the training ground again.
Glance at his first interview back at the club he left two years ago and the buzzwords betray a man delighted to be back. It is fantastic to have a second opportunity to play for this club, he grins. It will be an amazing opportunity for me to show the fans again how I love this club, how I love to play for this club. Lets try to continue the nice history with a lot of joy. I cant wait to wear the shirt at Stamford Bridge again.
His last two visits back to south-west London <a href="https://www.theguardian.com/football/blog/2015/mar/12/david-luiz-brazilian-psg-chelsea-champions-league" title="" data-link-name="in" body link" class="u-underline">had seen Chelsea eliminated from the Champions League but the locals will forgive him almost anything after that wholehearted, one-legged performance in Munich. They have pined for the entertainment that would veer from comical to thrilling on a weekly basis, a mesmeric combination of crunching tackles and flamboyance on the ball. Centre-halves are supposed to be dour and dogged and should not hog the limelight to this extent, but the unpredictability he offers was always entrancing. He will be a breath of fresh air, albeit one that could eventually cost north of 34m.
Chelsea, of course, have not forked out on a court jester. David Luiz was not Antonio Contes first choice and he is certainly not a figure who screams tactical cuteness or defensive discipline. Those are qualities he is unlikely to develop overnight at the age of 29. Paris Saint-Germain were initially reluctant to part with the player until he made it obvious to the president, Nasser al-Khelaifi, and the sporting director, Patrick Kluivert, that he wanted out. Yet the new head coach, Unai Emery, had made clear during pre-season that the third-highest earner at the club would be third-choice at centre-half. Marquinhos and Thiago Silva, once fit, is PSGs defence of choice.
Maybe that has played on David Luizs mind but his 62-minute performance in Sundays 3-1 defeat by Monaco, which included the clumsy concession of a penalty for rugby tackling Jemerson, suggested his powers were on the wane. Certainly PSG eventually leapt at the chance to recoup the vast majority of their outlay from 2014 which had the potential to rise to 50m, but was actually closer to 40m in selling him back. That does not bode well. Nor does the reality Conte would instinctively have preferred Kalidou Koulibaly or Alessio Romagnoli, both players steeped in the relative rigidity of Serie A, or even Marquinhos, as to whose availability Chelsea had initially inquired this week.
But, in giving the pursuit of David Luiz the green light on transfer deadline day, the manager must believe he is not purchasing a liability. He knows the players strengths and weaknesses, and that each defensive blunder will draw the focus not least because a player of his stature, all frizzy hair and maniacal grin, tends to invite more scrutiny. Regardless, he will provide an option this squad had lacked. There are now three senior centre-halves, in David Luiz one with a burst of pace to go with a towering presence, granting the Italian the choice of playing them all across the back-line as he did at Juventus and withItaly.
It will be intriguing to see whether the player is permitted to express himself as he once did. Will David Luiz be granted the leeway to maraud upfield in possession? Even Conte may struggle to drum those instincts out of him but maybe he considers NGolo Kants busy presence in midfield a safety net to protect the team from the centrehalfs eccentricities. He could even experiment with the Brazilian alongside Kant for some fixtures.
The pragmatist in Conte will make this eye-catching transfer fit his needs. Chelsea had given the impression they were a club floundering as the deadline approached, wounded by all the knockbacks and, it seemed, hamstrung by their inability to offer European football to those they coveted. The prices quoted were too mind-boggling, even for them. So, ultimately, they turned to familiar allies to find a solution.
The agents Kia Joorabchian and Giuliano Bertolucci have worked closely with Roman Abramovichs club for years. They have smoothed the arrivals of Willian plucked from Tottenham Hotspurs training ground and Oscar, as well as the youngsters Kenedy, Wallace, Lucas Piazon and Matt Miazga. They have coaxed huge fees from PSG and Jiangsu Suning for David Luiz and Ramires respectively. The unsuccessful but relatively inexpensive loan signing of their client Alexandre Pato in January had offered the Brazil forward a route back into European football he is now contracted to Villarreal and felt almost like a favour. So, when Chelsea threatened to draw a blank, it is no surprise the same agents delivered a solution late on deadline day. It was needed.
Returning to a familiar face may appear a retrograde step, and hardly a pat on the back to an extensive scouting department, but this was an awkward window for plenty of clubs, and there was a logic in recruiting someone who knows the setup. Chelsea have John Terry on a one-year deal, Kurt Zouma recovering from long-term injury and Andreas Christensen in the second season of a two-year loan at Borussia Mnchengladbach. The youngster is improving weekly in the Bundesliga and the hope is he will return next summer ready to make his mark in the Premier League. Until then, while plenty voice their scepticism, Chelsea will revel in the return of a talisman to raise the mood.
Read more: https://www.theguardian.com/football/blog/2016/sep/01/david-luiz-not-antonio-contes-first-choice-at-chelsea