Bomb making materials discovered at home of Micah Johnson, sniper who killed five police officers and injured seven others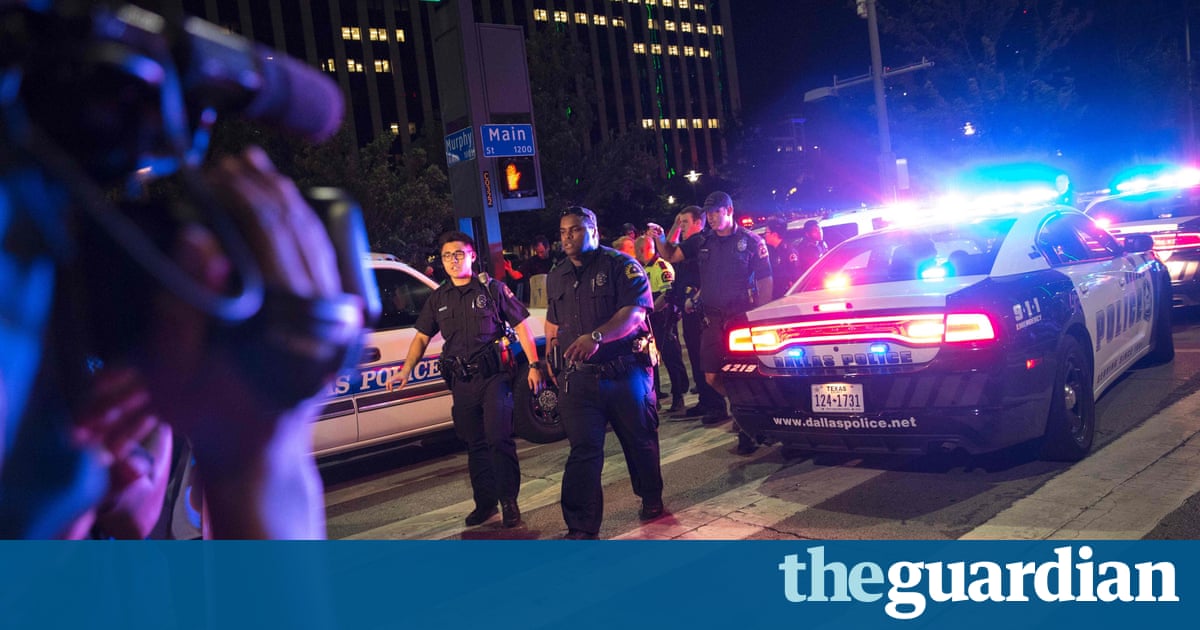 Desperate pleas for unity and calm reverberated around the US after five police officers were killed and seven injured when at least one sniper opened fire on a peaceful protest in Dallas, telling police he wanted to kill white officers.
The shooter, 25-year-old Micah Johnson, an army reservist who served in Afghanistan, was killed after lengthy negotiations with officers during which he articulated anger at recent police killings of African American men and told negotiators he wanted to kill white people, especially white officers.
The shooting, in which two civilians were also injured, marks the deadliest assault on police since the 9/11 attacks and threatens to plunge the already fraught discussion over race and policing in America to new depths of discord. On Friday evening, Dallas mayor Mike Rawlings confirmed that Johnson was the sole gunman. Initial reports had suggested multiple snipers.
Detectives uncovered bomb making materials, ballistic vests, rifles, ammunition, and a personal journal of combat tactics at Johnsons home, police said in a statement.
The attack in Dallas followed the police killings of two black men earlier in the week, Alton Sterling in Louisiana and Philando Castile in Minnesota, both captured on graphic cellphone video prompting protests around the US, including the march in Dallas.
US attorney general Loretta Lynch said the events had left Americans feeling a sense of helplessness, of uncertainty and of fear.
These feelings are understandable and they are justified, she said in an address to the nation on Friday. But the answer must not be violence. The answer is never violence.
Barack Obama, in Poland for his last Nato summit, condemned the vicious, calculated and despicable attack on Dallas police. Lets be clear, there are no possible justifications for these attacks or any violence towards law enforcement, he added, mindful of how some on the right have sought to accuse him of failing to support the police.
The presidential election campaign, meanwhile, was upended by a mass shooting for the second time in a month. Both Hillary Clinton and Donald Trump were forced to postpone campaign events, as they did after the massacre of 49 people at a nightclub in Orlando, Florida.
In Dallas, police chief David Brown told reporters that the shooter appeared to have opened fire from an elevated position above the march and deliberately targeted officers at around 9pm. Three suspects had been held in custody but authorities provided mixed information about their importance to the investigation.
Rawlings said the shooter had opened fire from the same building but had moved levels at various points. He said around 20 people in the crowd were dressed in protective equipment and with rifles slung over their shoulders.
When they started running, we started catching, and thats when started to interview them, he said. It was only later, as we started to unravel this fishing knot, that authorities realised a single shooter had opened fire.