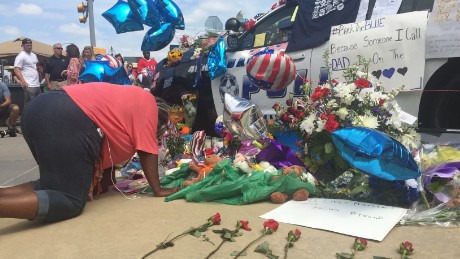 (CNN)President Barack Obama and other officials who spoke Tuesday at a memorial for five Dallas police officers killed last week urged Americans to corral their anger and sadness and push for the change society needs.
"I believe our sorrow can make us a better country. I believe our righteous anger can be transformed into more justice and more peace. Weeping may endure for a night but I'm convinced joy comes in the morning," the President said.
<
ul class="cn" cn-list-hierarchical-xs cn–idx-4 cn-zoneadcontainer">
The Dallas officers were fatally gunned down Thursday by a sniper, an armed-to-the-teeth Army veteran who targeted the officers, perhaps as retribution for police violence largely unrelated to North Texas.
For five days, the news has revolved around the horrific details of the slayings, but on Tuesday afternoon the focus was on the men in blue who lost their lives keeping watch over what had been a peaceful protest.
Brent Thompson, 43, a newlywed.
<
div class="zn-body__read-all">
Lorne Ahrens, 48, whose smile was regularly reciprocated.
Patrick Zamarripa, 32, a father.
Michael Krol, 40, whose lifelong dream was to become a police officer.
Michael Smith, 55, an Army Ranger and family man.
Five chairs at the memorial were left open in tribute, a folded United States flag on each one.
<
div class="el__embedded" el__embedded–fullwidth">