<figure class="media-landscape" no-caption full-width lead">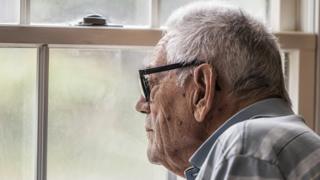 Image copyright Getty Images
Spending just 10 minutes a day talking to people with dementia about their interests or family could help improve their quality of life, according to a study.
Researchers carried out a nine-month trial in 69 care homes in England.
One-to-one interaction, combined with personalised care, significantly reduced the residents' anger and agitation, the study found.
The authors said other homes should try taking a more "personal" approach.
'Simple things… implemented robustly'
The study, published in PLOS Medicine, involved more than 800 people with dementia across care homes in south London, north London and Buckinghamshire over a nine-month randomised controlled trial.
<div id="bbccom_mpu_1_2_3″ class="bbccom_slot" mpu-ad" aria-hidden="true">