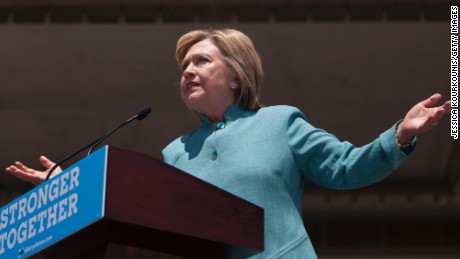 (CNN)Hillary Clinton is considering three choices for VP: Timotonous Kaine, Coriander Booker and Joe Biding.
At least that's how a cybersquatter — and Harry Potter fan fiction scribe — sees her choices. The websites ClintonKaine.com, ClintonBooker.com and ClintonBiden.com are all currently being used to write politics-inspired Harry Potter fan fiction, telling the story of why Clinton should or shouldn't pick Virginia Sen. Tim Kaine, New Jersey Sen. Cory Booker or Vice President Joe Biden as her running mate.
<
ul class="cn" cn-list-hierarchical-xs cn–idx-4 cn-zoneadcontainer">
"That left Hillary with one obvious, safe choice: Timotonous Kaine from Hufflepuff," writes Jeremy Pegg, the owner and designer of the sites. "Yes, he was dull, and not particularly pleasing to the eye. But everybody seemed to agree that — aside from Helga Hufflepuff herself — there had never been a Hufflepuff as 'Hufflepuff' as Timotonous Kaine."
The story goes on, "He was loyal and honest to a fault, and had been a major supporter of Hillary's since the beginning of what had turned out to be a particularly tough year for her."
Kaine is seen by many inside Clinton's campaign as the front-runner for Clinton's vice presidential job given his executive experience, deep relationship with donors and ability to speak Spanish.
Pegg,
according to his blog
, is a 27-year-old lawyer who lives in Washington, D.C., and is a "general bottom feeder who makes websites, humor, music, and cartoons." He also calls himself a "domain squatter," someone who buys websites that will likely be valuable at a later date and uses them for other purposes.
Pegg said he did the Harry Potter inspired drawings over the course of a few days after work and that each story took about a half and hour to write.
"I did it partially just as a fun project and partially to promote my modest non-sequitur gag webcomic,
Feldman the Cat
," Pegg said. "I like having fun with my political domains whether I end up selling them or not."
Pegg said would like to sell the sites. "Even $5,000-10,000 would completely change the course of my life right now," he said.
For Booker, Pegg writes, "Nobody on Hillary's shortlist had more pizazz than Coriander Booker. His charm was so plentiful that many suspected he didn't even need a wand to work magic. He also had a common person's touch that endeared him to many. Once he even rescued a cat (which later turned out to be an unregistered animagus) from a burning cottage. On top of these qualities, he was moderate, uncontroversial, and would help to increase turnout in the Black, vegan, and teetotaller wizarding communities."
"The only problem," Pegg adds, "was that Booker was from New Jersey."
Booker is on Clinton's short list, as well, in part because he excites young voters and the coalition that helped get President Obama elected twice.
Biden has said he doesn't want the vice presidential job and it doesn't appear the Democratic elder statesman is being vetted.
"Joe Biding was about to about to graduate with flying colors. In his time at Hogwarts, Joe had established such a strong presence that it was hard to imagine the school without him," Pegg writes. "Could Hillary really do the unthinkable and ask Joe to become what the students called a 'super seventh-year' — somebody who had stuck around at Hogwarts for longer than the standard seven years?"
Read more: http://www.cnn.com/2016/07/14/politics/hillary-clinton-harry-potter/index.html