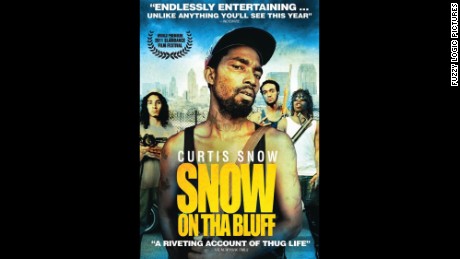 (CNN)Curtis Snow, star of the 2011 acclaimed drug drama "Snow on tha Bluff," was arrested Saturday after an hours-long standoff in an Atlanta funeral home bathroom, police said.
Snow was attending his grandfather's funeral at Higher Ground Empowerment Center in Atlanta when police responded to a "person armed" call, Atlanta Police Dept. spokesman Officer Lukasz Sajdak said. It was not immediately clear whether the call was related to Snow.
<
ul class="cn" cn-list-hierarchical-xs cn–idx-4 cn-zoneadcontainer">
When Snow learned that police were at the funeral parlor he sought cover in the women's bathroom, Sajdak said.
"While officers were conducting the investigation, Mr. Snow, who was at the service, became aware that the cops were at the location, and that's when he ran into the bathroom and locked himself inside," Sajdak said.
Elder Darius Matlock at Higher Ground Empowerment told CNN that Snow was the grandson of the deceased.
Due to the nature of the original call police called a SWAT team and negotiator to assist, Sajdak said. Sajdak said the person leading the service tried to talk Snow out of the bathroom. When that didn't work the SWAT team pulled him out and took him into custody without incident, Sajdak said.
Snow was arrested on an outstanding warrant for aggravated assault, Sajdak said. During negotiations, the funeral parlor was locked down and non-essential personnel were evacuated.
<
div class="ad-slide–inactive" ad-slide js-ad-slide">