Omar Everleny Prez is one of the countrys most well-known academics and made frequent trips to America with the University of Havanas approval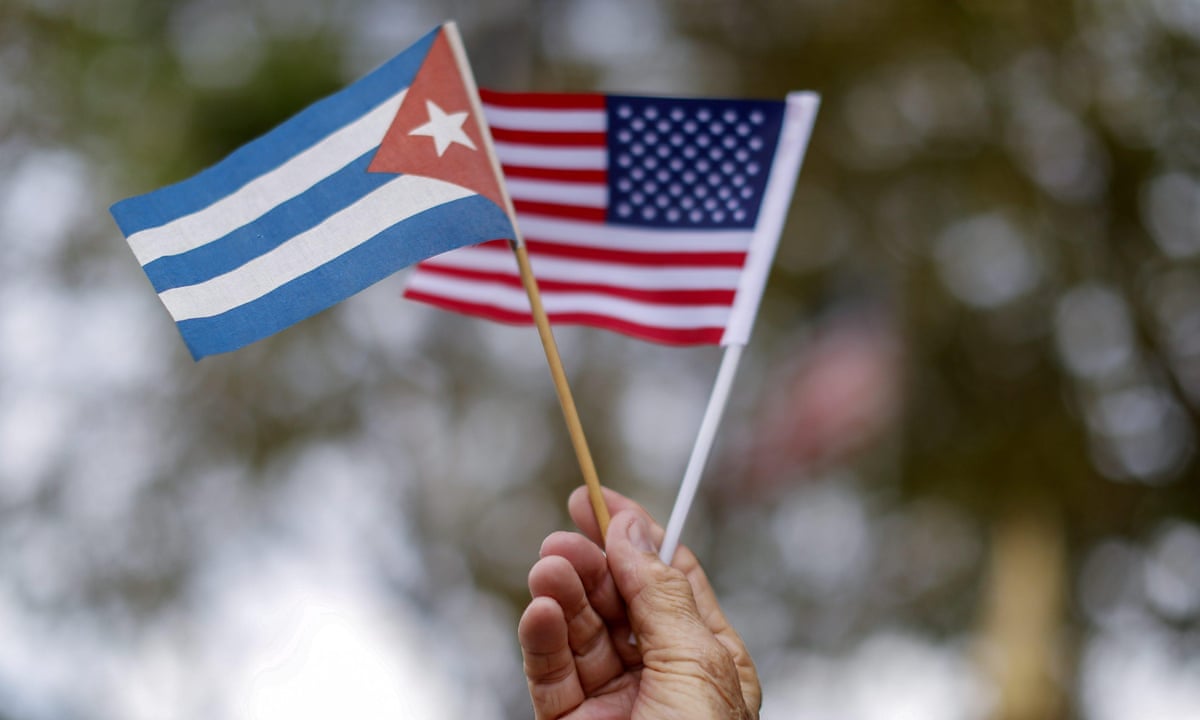 One of Cubas most renowned advocates of economic reform has been fired from his University of Havana thinktank for alleged violations including sharing information with Americans without authorization.
The dismissal of Omar Everleny Prez adds to a chillier mood that has settled over much of Cuba as the countrys leaders try to quash the jubilation that greeted Barack Obamas historic trip to the island last month.
The Cuban Communist partys twice-a-decade Congress ended Tuesday after four days of officials issuing tough warnings about the need to maintain a defensive stance against what they called the United States continuing imperialist aspirations.
Foreign Minister Bruno Rodriguez described Obamas visit as an attack on the foundation of our political ideas, our history, our culture and our symbols. President Ral Castro described the US as an enemy seeking to seduce vulnerable sectors of society, including intellectuals and members of Cubas new private sector.
While that was going on, Cuban academics began sharing the news that Prez had been dismissed from his post at the Center for Studies of the Cuban Economy on 8 April, less than three weeks after Obamas visit.
Prez is one of the countrys best-known academics, an expert in developing economies who served as a consultant for Castros government when it launched a series of market-oriented economic reforms after he took over from his brother Fidel in 2008. Prez made dozens of trips to universities and conferences in the US with university approval and frequently received foreign visitors researching the Cuban economy.
Reached by the Associated Press on Wednesday, Prez confirmed his dismissal by center director Humberto Blanco for having unauthorized conversations with foreign institutions and informing North American representatives about the internal procedures of the university.
The dismissal letter described Prez, 56, as irresponsible and negligent for continuing to engage in unauthorized activity after warnings from his superiors. It also accused him of receiving unauthorized payments for a study of the South Korean economy and said he was barred from returning to work for at least four years.
Prez said he had appealed his dismissal, and believes Cuban authorities were seeking to make an example of him not because of the allegations in the letter, but because of his critical writings about the slow pace of economic reforms.
Sometimes they dont like what you write or think, he told the AP.
Cuban government representatives did not respond to request for comment on Prezs dismissal.
Prez was one of the first state economists to begin publishing in non-government publications, including several run by the Catholic church. In 2010, he became a key consultant in reforms implemented by Raul Castro that include the legalization of hundreds of new types of private businesses, a loosening of restrictions on foreign investment, the opening of a real estate market and the handing of unused agricultural land to small farmers.
Im still a revolutionary and a nationalist, and I believe in many of the reforms that Ral Castro is undertaking, he said.
Cubas system is based on the communist governments total oversight of virtually all elements of society, including the press, arts and academia.
While room for debate has grown somewhat under Ral Castro, and Cubans openly criticize the government in private conversations, intellectuals who publicly offend official sensibilities have found themselves losing their state jobs and other privileges.
His call to speed up the reforms and make them coherent may have served to frighten some of the forces of immobility in the bureaucracy, said Armando Chaguaceda, a Cuban political scientist based at the University of Guanajuato in Mexico. Its a terrible message to economists that will affect the governments own capacity to hear feedback about its reforms.
Political scientist Esteban Morales was expelled from the Communist party in 2010 for two years for denouncing corruption. Sociologist Roberto Zurbano lost his job at a state cultural center after discussing racism in Cuba in an editorial published in the New York Times. In 2013, musician Roberto Carcasses was temporarily barred from cultural institutions after criticizing the government during a concert, and director Juan Carlos Cremata was prevented last year from putting on a production of Eugene Ionescos Exit the King, a play about a once-powerful dying leader.
Pavel Vidal, a former colleague of Prez now working in Colombia, said the University of Havana was taking limits on academic work to an extreme.
The public work of academics has been coming under increasingly greater control, he said, even as Castros reforms make it more urgent for the country to have new ideas and an open and honest debate about the future of the country.
Read more: http://www.theguardian.com/world/2016/apr/21/cuban-university-fires-academic-omar-everleny-perez