<figure class="media-landscape" has-caption full-width lead">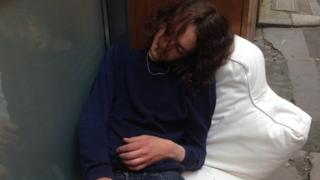 Image copyright Abigail Balfe

Image caption Drug and alcohol addict Patrick Balfe has been sleeping rough since February 2016
More than 21,000 homeless people have been admitted to hospital with problems relating to drink and drugs over the past three years.
A BBC investigation found the number of people of no fixed abode admitted for drug addiction increased by about a quarter between 2014 and 2016.
Addiction specialist and therapist Chip Somers said the figures pointed to a "crisis situation".
The government said the issue was "complex" with "no single solution".
The BBC submitted Freedom of Information requests to 145 hospital trusts in Britain and Northern Ireland after it was revealed the number of homeless families in the UK had risen by more than 60% since the beginning of the decade.
<div id="bbccom_mpu_1_2_3″ class="bbccom_slot" mpu-ad" aria-hidden="true">