<figure class="media-landscape" no-caption full-width lead">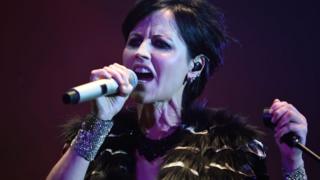 Image copyright AFP/Getty Images
The Cranberries lead singer Dolores O'Riordan has died suddenly at the age of 46, her publicist has confirmed.
The Irish musician, originally from Limerick, led the band to international success in the 90s with singles including Linger and Zombie.
A statement from her publicist said: "The lead singer with the Irish band The Cranberries was in London for a short recording session.
"No further details are available at this time."
A Metropolitan Police spokesperson said the police were called to a hotel in Park Lane at 09:05 GMT on Monday, where "a woman in her mid-40s" was pronounced dead at the scene.
The death is, at this stage, unexplained.
Her current band mates in The Cranberries – Noel Hogan, Fergal Lawler, and Mike Hogan – paid tribute to the lead singer on social media.
The message said: "She was an extraordinary talent and we feel very privileged to been part of her life from 1989."
<
div class="social-embed">
<
div class="social-embed-post" social-embed-fallbacktwitter embed-image-wrap" style="max-width:;" 465px">