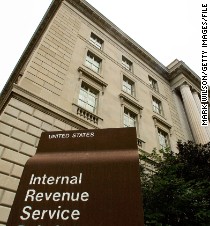 Washington (CNN)A federal appeals court says the Internal Revenue Service has not proven it has ended discriminatory practices against conservative groups seeking tax-exempt status, reinstating a lawsuit against the troubled agency.
The US Court of Appeals for the District of Columbia Circuit's unanimous order on Friday reversed a 2014 lower district court ruling that previously dismissed the lawsuit, which was originally filed the year before.
<
ul class="cn" cn-list-hierarchical-xs cn–idx-4 cn-zoneadcontainer">
The federal appeals court found that the IRS had committed some "unconstitutional acts against at least a portion of the plaintiffs," including "Be-On-The-Lookout" or "BOLO" lists where certain organizations' applications for tax-exempt status "were subjected to extended delay" and "were not receiving the same processing as those of other organizations."
Although the IRS announced that it had suspended the use of "BOLO" lists in the application process, the federal appeals court stated that the IRS' use of the word "suspend" indicated that it is not a permanent change.
Additionally, the court ruled that even if the IRS did voluntarily cease all discriminating practices, "it is absurd" to suggest the unlawful activity by the IRS has been eradicated "when two of the appellant-plaintiffs' applications remain pending."
The IRS has not responded to a request for comment.
In response to the opinion, True the Vote, Inc., an appellant in the case, said in a statement it "welcomed the ruling as a positive step toward justice after its First Amendment rights were violated by the IRS, dating back to 2010."
Although the federal appeals court affirmed the district court's ruling that no action be taken against IRS employees in their individual capacities, the judges in the end ruled to "vacate and remand for further proceedings with respect to the equitable clams of the plantiff-appellants."
The lawsuit is
separate
from a two-year Justice Department investigation into the IRS practices that closed in October with no charges.
That probe found "substantial evidence of mismanagement, poor judgment and institutional inertia leading to the belief by many tax-exempt applicants that the IRS targeted them based on their political viewpoints. But poor management is not a crime," Assistant Attorney General Peter Kadzik said in a letter.
Read more: http://www.cnn.com/2016/08/06/politics/irs-true-the-vote-conservative-groups/index.html