<figure class="media-landscape" has-caption full-width lead">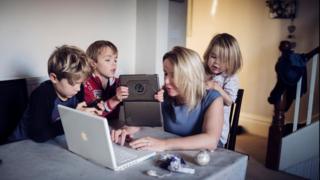 Image copyright @DavidHowells

Image caption BBC reporter Susannah Streeter and family
Reminders that we are hurtling towards the end of term have been clogging up my inbox.
From email alerts that holiday club spaces are booking up fast to Facebook reminders that collections for teachers are doing the rounds, the notifications are coming in thick and fast.
While the final weeks whiz by in a blur of fetes, sports days and hastily made packed lunches, the school holidays loom towards us, a chasm of summer days demanding to be filled with some kind of entertainment.
Working parents are meant to look forward to the break as a chance to unwind and reconnect with our kids, but instead many are faced with a logistical nightmare.
Children typically get 13 weeks off school each year, while parents working full time will get just four or five weeks holiday.
<div id="bbccom_mpu_1_2_3″ class="bbccom_slot" mpu-ad" aria-hidden="true">