<figure class="media-landscape" has-caption full-width lead">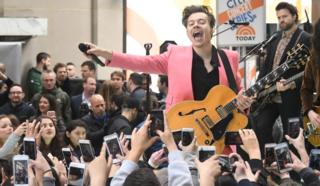 Image copyright Getty Images

Image caption Good luck to the person who tries to take a phone from a Harry Styles fan
Chris Rock fans will have their phones locked up during his forthcoming UK shows. Is this the start of no longer seeing a sea of screens at concerts?
Gigs in the pre-smartphone age used to be far less complicated.
You'd turn up. Maybe locate the bar and figure out where the bathrooms were. Flick through a programme or chat to your friends, and then just enjoy the show.
But these days, such a scene sounds like ancient history.
Now, you turn up. Check yourself in on Facebook. Catch up on emails while you're waiting for the show to start, and then when it does, upload some photos and videos you've taken to Instagram.
<div id="bbccom_mpu_1_2_3″ class="bbccom_slot" mpu-ad" aria-hidden="true">