Multiple bottles of prescription medications and loose pills were found next to the body of former professional wrestling star Chyna last week, but the exact circumstances of her death remain a mystery, according to the Los Angeles County Coroner.
The coroner's office has stated that it's deferring a ruling on the cause of the 46-year-old's death pending additional investigation, notably the completion of a toxicology examination. That could take several months, Ed Winter, assistant chief of the coroner's office, told The Huffington Post.
"We don't know what she might have taken or how much," Winter said, adding that authorities were also looking into whether the prescriptions and pills were legally obtained.
An autopsy has been performed, Winter said. Asked about media reports that Chyna's brain was to be donated to famed chronic traumatic encephalopathy (CTE) researcher Dr. Bennet Omalu, Winter said that no such donation had happened and he was not aware of any plan to do so. Omalu didn't respond to HuffPost's request for comment.

But Anthony Anzaldo, Chyna's manager, told HuffPost that he hoped her brain might be studied by Omalu.
"We want to know what made her tick," Anzaldo said. As for whether Chyna suffered any concussions during her pro wrestling career, he said, "In that sport, it's impossible not to take hits."
Chyna was found dead in bed at her Redondo Beach, California, apartment last week by officers performing a welfare check. Redondo police said they received a 911 call from a friend of hers, who said she was not breathing and had not answered her phone in several days.
"There are no indications or signs that the death was a result of foul play," police said in an April 20 statement, noting that an investigation had been launched.
Anzaldo identified himself as the friend who found Chyna, which Winter confirmed. Anzaldo said he doesn't believe her death was intentional and disputed reports suggesting she was unstable.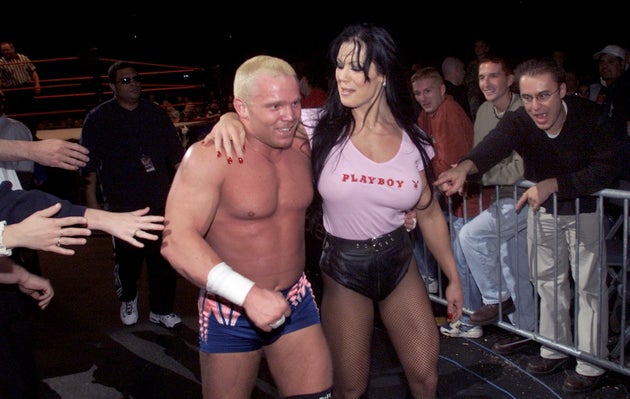 Bernard Weil/Toronto Star via Getty Images
<
figcaption class="image__caption" js-image-caption"> Chyna walks off with Crash duringa pro wrestling eventat Air Canada Centre, Toronto, in October 2000.
<
div class="content-list-component" text">
Chyna, who was born Joan Laurer, had a storied career as a professional wrestler. She made her debut with the company now known as World Wrestling Entertainment in 1997 as fellow performer Triple H's bodyguard. But she soon became a headliner, cementing herself in the history books of pro wrestling as the first woman to participate in the WWE's Royal Rumble and King of the Ring and the only woman to win the Intercontinental Championship.
After she and the WWE parted ways in 2001, Chyna started acting in both mainstream and adult movies. She struggled with alcohol and substance abuse, which she discussed on "Celebrity Rehab with Dr. Drew" in 2008.
Chyna had started to deal with issues related to past domestic violence and was receiving therapy, according to Anzaldo. "It was tormenting stuff," he said.
She was also putting together a documentary of her life, "The Reconstruction of Chyna." Anzaldo said that project, which was a tool for her to explore personal and emotional matters, would continue.
A public memorial is being planned. "I want her story to be told, the true story," Anzaldo said.