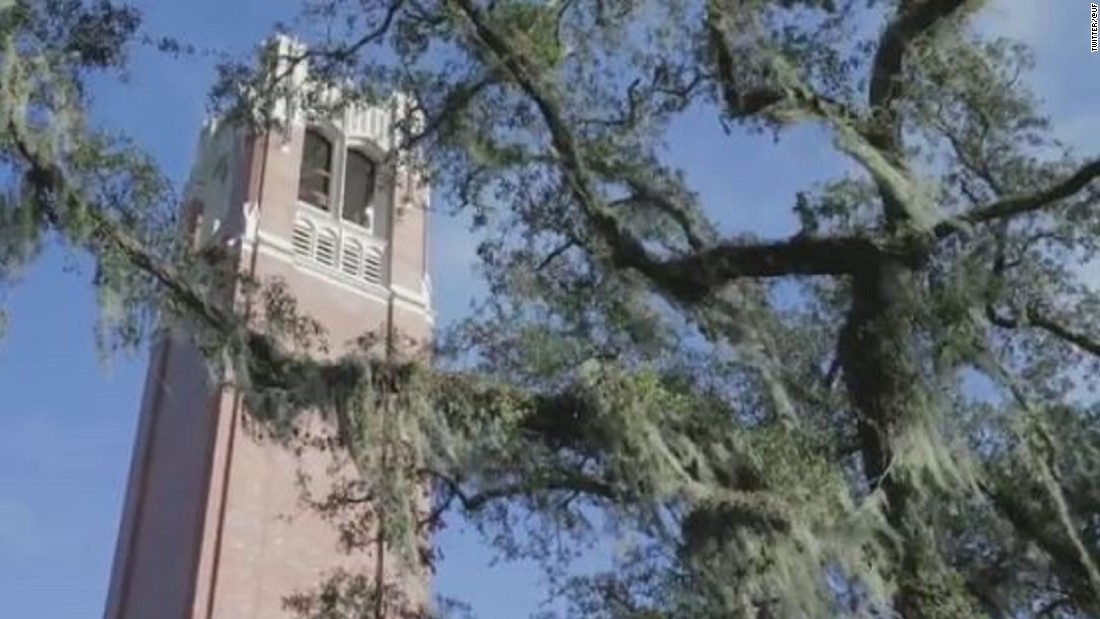 (CNN)As white supremacist leader Richard Spencer prepared to take the stage at the University of Florida, a concert of bells rang through campus leaving a poignant message of unity.
Laura Ellis, a music professor at the university, went up 11 flights of stairs in the school's carillon tower on Thursday to play "Lift Every Voice and Sing," also known as the black national anthem.
"I think it was an appropriate time to play this song, to show our support for those who need it the most," Ellis told CNN.
<
ul class="cn" cn-list-hierarchical-xs cn–idx-5 cn-zoneadcontainer">
"Lift Every Voice and Sing" was first written as a poem in 1900 by James Weldon Johnson as part of a celebration of Abraham Lincoln's birthday at the all-black Stanton School in Jacksonville, Florida.
Johnson, a civil rights activist, was also the school's principal. Johnson's brother, John Rosamond Johnson put the poem to music.
The song was later adopted by the NAACP as its official song in 1919. It became a staple during the civil rights movement and remains a musical tradition in social, political and religious events in the African-American community.
Ellis and her students play the carillon — an instrument that consists in a series of tuned bells that are connected to a keyboard — in the iconic university tower. Twice a day, they perform three songs as hundreds of students walk between classes.
On Thursday, the sound of bells echoed through campus, as police officers in riot gear, Spencer's supporters and anti-Spencer protesters carrying signs against fascism, neo-Nazis and white supremacy flooded the school.
"I think the UF students really unified against hate and presented an image of love that overwhelmed any negativity. I think it was super important and fitting to play that song today, and it left me feeling comforted and unified," said Elizabeth Parker, one Ellis' students.
University and local officials had been concerned that Spencer's appearance could prompt violence. Florida Governor Rick Scott had declared a state of emergency for Alachua County, where the university is located, to avoid bureaucratic delays if multiple law enforcement agencies were to be called to the university.
But Ellis said she felt very safe even when more than 2,500 demonstrators were walking through campus on Thursday.
For the most part, demonstrations remained peaceful. A handful of people suffered minor injuries and only two people were arrested.
"I am very proud of what we saw today, there was a lot of unity. The city and campus security did an amazing job to keep everything organized, clean and peaceful," Ellis said.
Read more: http://www.cnn.com/2017/10/20/us/university-florida-bell-tower-trnd/index.html