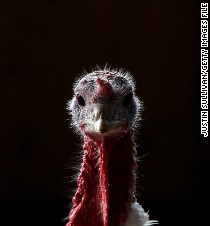 (CNN)Americans say that this Thanksgiving they are most thankful for their family, but they really hope that Aunt Ann won't ask about politics as she passes the mashed potatoes.
A
new CNN/ORC poll
finds that 53% of Americans say they dread the thought of talking politics over Thanksgiving dinner on Thursday.
<
ul class="cn" cn-list-hierarchical-xs cn–idx-4 cn-zoneadcontainer">
Republicans, however, are generally eager to discuss the topic with 58% on board to do so, but 63% of Democrats say they want no part of it. Overall, a minority, 43%, say they are eager to delve into politics with their stuffing.
Of those polled, 60% who are celebrating the holiday thought it at least somewhat likely that politics would come up, including 66% of those who plan to dine at the home of a friend or family member. Among those planning to celebrate at home, fewer thought politics likely to be chewed over (54%).
And younger Americans are more likely to think it'll be in the conversational mix than are seniors: 69% of those under age 45 said it was likely to come up vs. just 42% of those age 65 or older.
The nation's political leaders and outcomes are at the top of very few lists of gratitude this Thanksgiving. Just 5% said they were most thankful for a political outcome or a political leader, including 4% who were most thankful for a President-elect Donald Trump.
There's greater thankfulness for the nation and its rights and freedoms, however, with 13% saying they are most thankful to live in America or enjoy its freedoms. One respondent said they were most thankful "to live in this country even though it's still divided."
Still, Americans are most thankful for those closest to them, with 64% putting family at the top of their list. Children (9%) and spouses or significant others (6%) were most often named among those who specified a relative they're thankful for. Two percent cited their furry family members and said they were most grateful for their pets.
The public's patterns in celebrating Thanksgiving haven't changed much in the last 10 years.
Many still celebrate with relatives (43%), and though the concept of "friendsgiving" has grown in pop culture, there's not been a significant uptick in the share who say a gathering at a friend's place is their main event. Seven percent say they'll spend the holiday at a friend's home, about the same as the 5% who said so in 2006. More than 4 in 10 say they will eat in their own home, and 4% plan to leave the cooking to someone else entirely and dine out.
Beyond family, more than a quarter said they were thankful for their health or just to be alive. And one in eight said their career, education or even ability to be retired was tops on their list this year. Friends were top of the list for 8%, as was religion. Seven percent said they were most thankful to be provided for, citing their home, ability to pay bills and support their family, or have ample food.
A very grateful 3% said they were thankful for just about everything. And perhaps surprisingly, just one respondent singled out one of 2016's most memorable events: "I'm thankful for family, friends, good health and the Cubs winning the World Series. Even though I'm not a Cubs fan."
Interviews were conducted November 17-20, 2016 by telephone with 1,003 adult Americans
Read more: http://www.cnn.com/2016/11/23/politics/cnn-thanksgiving-poll/index.html