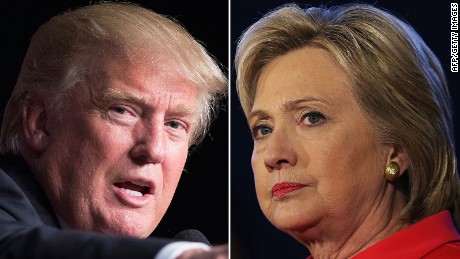 Detroit (CNN)Hillary Clinton raised Donald Trump's record with bankruptcy as a warning about how he would handle the economy, in an appearance Monday before union members in Detroit.
Trump has filed four business bankruptcies in the last 30 years, all of which surrounded his casino holdings in Atlantic City.
<
ul class="cn" cn-list-hierarchical-xs cn–idx-4 cn-zoneadcontainer">
"Trump economics is a recipe for lower wages, fewer jobs and more debt. He could bankrupt America like he has bankrupted his companies," Clinton said to laughs from the audience. "I mean ask yourself, how could anybody lose money running a casino? Really?"
Trump has defended the bankruptcies by noting that he never personally went bankrupt.
"I have used the laws of this country … the (bankruptcy) chapter laws, to do a great job for my company, for myself, for my employees, for my family," he said last year.
Clinton pushed for raising the federal minimum wage, mandating equal pay for women and protecting unions in her speech tailored to issues important to the Service Employees International Union.
She used all of those issues to blast Trump, the presumptive Republican nominee who Clinton is preparing to face in the general election.
"He actually talked about getting rid of the national minimum wage all together. Shouldn't be surprising, he has hired union busters to break up organizing campaigns on the properties that he owns," Clinton said.
Clinton added that Trump economics "would mean running up our debt, stating trade wars, letting Wall Street run wild," all policies that could "cause another crash and devastate working families and our country."
"We need a president who will use the bully pulpit to stand up for working families — but the last thing we need is a bully in the pulpit," Clinton said.
Ed Brookover, a senior Trump campaign aide, told CNN's Jake Tapper on "The Lead" that Clinton "has a lot to learn about how American businesses work."
"She over-regulates, she over-taxes, she over-promises and doesn't deliver," he said.
As the general election draws closer, Clinton has begun testing lines on Trump and her campaign has started workshopping ways to do what 16 other Republicans couldn't do: Take down Trump.
Trump has largely hit Clinton on foreign policy and personal issues.
Read more: http://www.cnn.com/2016/05/23/politics/hillary-clinton-donald-trump-bankrupt-casinos/index.html