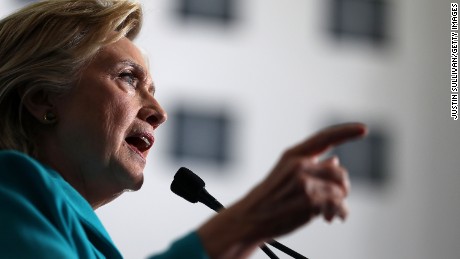 (CNN)Hillary Clinton's presidential campaign raised $143 million in August for her campaign, the DNC and state parties, according to a campaign press release, a haul that makes the month the best of her campaign.
The fundraising haul is a silver lining on what otherwise was a difficult month for Clinton, where questions about her exclusive use of a private email server as secretary of state and questions about pay-to-play at the Clinton Foundation hamstrung her campaign.
<
ul class="cn" cn-list-hierarchical-xs cn–idx-4 cn-zoneadcontainer">
With their massive August haul, the Clinton campaign starts September with more than $68 million in the bank, while her joint fundraising accounts have a combined $84 million in the bank.
"Thanks to the 2.3 million people who have contributed to our campaign, we are heading into the final two months of the race with the resources we need to organize and mobilize millions of voters across the country," Clinton's campaign manager Robby Mook said in a statement. "These resources will help us to register and turnout millions of voters to elect progressive candidates across the country."
Clinton headlined 37 fundraisers in August, raising her campaign close to $70 million in the process, according to CNN's estimate based on average ticket prices and attendance figures provided by the Clinton campaign.
Clinton's events — which took her to 12 states — raised $67.9 million, according to CNN's calculations. That haul smashes what she has personally raised during previous months and put her on pace to make August her biggest fundraising month of the campaign.
One key reason Clinton is able to raise these large sums of money: The Hillary Victory Fund, a joint fundraising account that allows the Democratic ticket to raise money for her campaign, the Democratic National Committee and Democratic state parties at the same time. These agreements allow Clinton's donors to give $366,400 to a number of different Democratic accounts through the Clinton campaign.
According to the Clinton campaign, $62 million of their total haul in August was for the campaign, while about $81 million was raised for the Democratic National Committee through the Hillary Victory Fund and the Hillary Action Fund.
Clinton's month was anchored by two three-day swings — one through California and another through New York.
The former secretary of state raised over $19 million during a three-day, nine fundraiser swing through California earlier this month. She topped that haul this week during a similar three-day, nine fundraiser haul through the Hamptons and surrounding towns, bringing in over $21 million in the process.
Clinton's month was star-studded as well.
Clinton visited the following states on the fundraising trial this month: California, Colorado, Connecticut, Florida, Illinois, Massachusetts, Michigan, Nebraska, New York, Ohio and Pennsylvania, as well as the District of Columbia.
Clinton's biggest fundraiser of the month was a $6.6 million event in the Hamptons hosted by Jonathan Tisch, co-owner of the New York Giants.
Tim Kaine headlined 33 fundraisers this month, bringing in a more modest $12 million, according to estimates, meaning together the Clinton-Kaine ticket raise around $80 million at fundraisers they personally headlined.
Read more: http://www.cnn.com/2016/09/01/politics/clinton-campaign-smashes-fundraising-record/index.html