A key influence on the Beatles and Rolling Stones, Berry overcame racism to become a principal architect of rocknroll. Now hes releasing a new album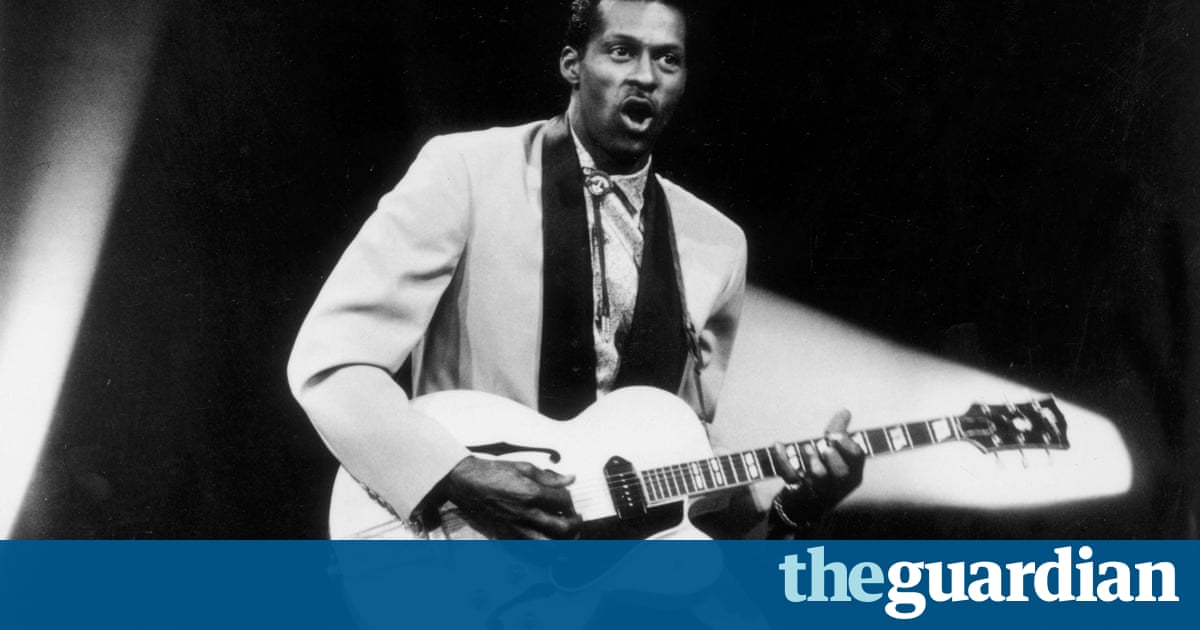 Chuck Berry, one of rocks principal architects, is celebrating his 90th birthday today with the announcement he will release a new album of original songs in 2017.
Im growing old! Ive worked on this record for a long time. Now I can hang up my shoes! he said in a statement released early on Tuesday.
Chuck will be his first album of new songs in 38 years. The album is a strictly local affair: it features his children Charles Berry Jr on guitar and Ingrid Berry on harmonica as well as musicians who have backed him up for more than two decades of shows at Blueberry Hill, his St Louis club in the citys Delmar Loop neighborhood.
Across the street from Blueberry Hill is an eight-foot-tall bronze statue of Berry. Indeed, Berry is a towering figure in rock music for his deep catalogue of songs, including Roll Over Beethoven, Maybellene, Rock and Roll Music, Sweet Little Sixteen, Little Queenie, School Days and Johnny B Goode. They served as the shortest bridge between rhythm and blues and rock, the revolutionary new sound embraced by white teenagers in the late 1950s and early 1960s.
Unlike his contemporaries on Chess Records, the Chicago label that included Muddy Waters, Little Walter and Howlin Wolf, Berry wrote songs that articulated the angst of modern teenagers, not the nightlife of adults, which made his songs acceptable for play on white radio stations, where he became a major hitmaker. The songs were a fever dream of sex and cars, the open road and school dances, and carried a jolt of sexual tension. Through defining lyrics like Hail, hail, rocknroll / Deliver me from the days of old, Berry helped a generation of young people communicate an identity separate from their parents. Long before rock became associated with teenage alienation and considered a tool against conformity, Berry was infusing white suburbia with the blues, translated on the sock hop floor as a tight combination of stinging guitar riffs, chugging piano chords, and a stomping beat.
The irony, of course, is that the pioneer who helped end racial segregation in music grew up under the weight of Jim Crow and was often a target of the system. By the time Berry released Maybellene, his first single, in 1955, he was a 29-year-old who had already served several years in state prison for stealing a car when he was a teenager, even when it was evident he was using a defective gun. The experience forced him to miss graduating high school, despite many years later becoming a chronicler of the experience for others. His popularity among white teenagers made life difficult. After he played a local dance in Meridian, Mississippi, in 1959, a small mob formed after Berry was seen returning a kiss to a white girl. He was jailed for disturbing the peace and was forced to hand over the $700 he made that night to the sheriff.
Berry also fell victim to corruption early in his career. Radio disc jockey Alan Freed demanded he receive a co-writing credit on Maybellene in exchange for making it a hit. An early manager also failed to give him proper attendance numbers at his live shows, which resulted in diminished returns. The experiences made Berry fiercely skeptical of promoters and record labels for the rest of his life and he developed a touring regimen of demanding cash upfront and only playing with local musicians he met moments before going onstage.
Like his contemporary Bo Diddley, Berry defined early rock guitar style, inspired by the precision and force of T-Bone Walker and Charlie Christian. His popularity also transcended the music due to his showmanship. Before Berry, white audiences had rarely seen a guitarist unglue himself from the floor and perform physical acrobatics like hopping on one foot or, in Berrys case, performing the duck walk, his signature move, in which he squatted low to the floor and stalked the stage with one leg hanging in the air.
His success is shared with the piano player Johnnie Johnson, Berrys longtime collaborator, who hired the guitarist to join his band in 1952. Soon enough, Johnson ceded leadership of the band to Berry and it is Johnsons bouncing piano that accompanies Berrys guitar riffs. Berry wrote Johnny B Goode as a tribute to Johnson. However, Johnson long said he was partly responsible for the creation of the songs and, at the suggestion of Keith Richards, Johnson sued Berry to receive royalties in 2000. A federal judge dismissed the suit, saying too much time had passed. Johnson died in 2005.
The British Invasion borrowed heavily from Berrys songbook as the Beatles, the Rolling Stones and many others recorded his songs on their earliest albums. Two years ago, in liner notes to a collection of Berry recordings, Paul McCartney called him one of the greatest poets America has ever produced. In inducting Berry into the Rock & Roll Hall of Fame in 1986, Richards admitted he himself lifted every lick [Berry] ever played.
Berry hasnt released a new album since 1979, when Atco released Rock It. He maintained his residency at the Duck Room in Blueberry Hill until 2014. He has remained largely reclusive, rarely giving interviews or performing high-profile shows.
The new record has been in the works for years but word of the sessions, which took place at several studios throughout St Louis, hadnt traveled far outside the city. At a tribute concert in 2012, Berry hinted new songs were on their way, saying: As soon as I can get someone to guide me and I do know a little about the business I want to push them out. Finally, they will be released next year.
Read more: https://www.theguardian.com/music/2016/oct/18/chuck-berry-comeback-album