<figure class="media-landscape" has-caption full-width lead">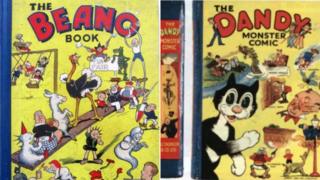 Image copyright Comic Book Price Guide

Image caption The first Beano and Dandy annuals, released during World War Two, are very rare
The comic book annual was often the biggest present you'd find in your stocking, only just fitting inside, although providing a sturdy spine for the other Christmas goodies. But how relevant are these annuals to the children of today – and how much might the Ruperts and Beanos of yesteryear be worth now?
Duncan McAlpine, who runs the Comic Book Price Guide website, said annuals were a "uniquely British" tradition dating back as far as the 1820s, and a key part of a child's Christmas.
He said some of the most sought after annuals were published during World War Two – these often ended with huge Christmas feasts that were appetite-whetting for hungry children unused to treats or luxuries.
Books from this period are rare and hugely sought after. A 1940 Beano annual fetched £3,505 in October 2012, but a "very fine" copy could be worth double that amount, while a 1939 Dandy made £6,232 in September 2006, said the annual "devotee" and comic-collecting expert.
<figure class="media-landscape" has-caption full-width">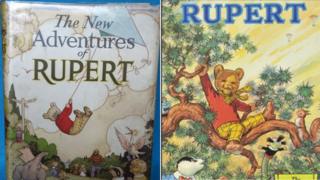 Image copyright Comic Book Price Guide

Image caption The 1936 Rupert (left) is valued at about £3,000, although a rare version of the 1973 annual is worth much more
Annuals about Rupert, the bear who wore a red jumper and yellow-checked trousers and scarf, are often sought by collectors.
<
div id="bbccom_mpu_1_2_3″ class="bbccom_slot" mpu-ad" aria-hidden="true">