Emotional tributes paid to 22-year-old who was shot dead as she signed autographs after a show in Orlando, Florida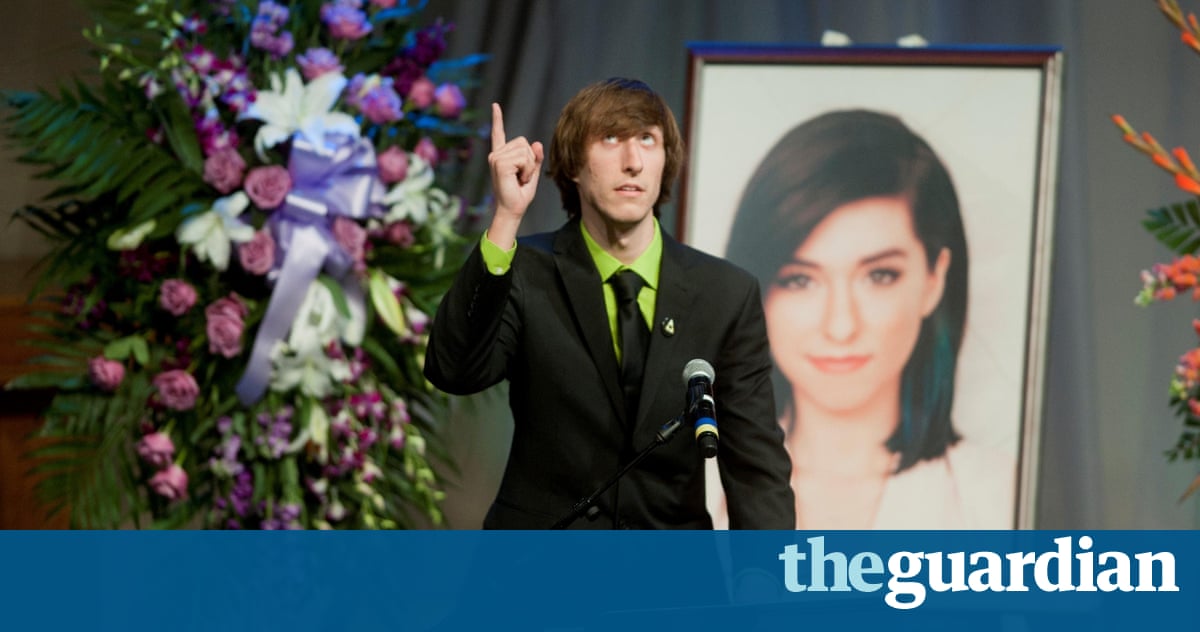 Thousands of friends and fans said farewell to The Voice singer Christina Grimmie at services in New Jersey on Friday.
Grimmies family received condolences for five hours before an emotional memorial service was held. The singers music was played and a large picture of her was displayed on an easel.
The 22-year-old was shot to death last week as she signed autographs after a show in Orlando, Florida. Her assailant fatally shot himself.
Among those present Friday night were Alissa and Joseph Canto. The husband and wife from outside Rochester, New York, said they drove seven hours to come to the services at Fellowship Alliance Chapel.
The couple, both 24, said theyve been fans since Grimmie launched her YouTube channel as a high school student.
We have been fans for years but we didnt know how much we appreciated her until she passed, Alissa Canto said.
Garret Lang of Pennsylvania attended the services with several other fans who called themselves Team Grimmie.
What I liked about her most was she didnt just treat her fans like fans, she treated them more special than fans, Lang told the Courier Post. She treated them like friends or like family members, even without knowing them.
Authorities said Grimmie was shot by Kevin Loibl the night of 10 June as she signed autographs after the Orlando show. A motive for the shooting has not been determined. Authorities said she had no personal connection to Loibl, who fatally shot himself after being tackled by her brother.
Grimmie was buried in a private ceremony Thursday.
Pop star Adam Levine, who mentored Grimmie when she finished third on The Voice, offered on Monday to pay for the funeral expenses.
Grimmie was a YouTube star who was widely known from her appearances on The Voice two years ago. She lived in Evesham, a small community about 20 miles from Philadelphia, before moving to Los Angeles in 2012.
Grimmie often cited her mothers ongoing battle with breast cancer as her musical inspiration, including during her first appearance on The Voice in 2014, where her mother cried in the wings at her rendition of Miley Cyruss Wrecking Ball.
Her killing was the first of three tragedies for Orlando in the last week. Early on Sunday, a massacre at gay nightclub Pulse left 49 dead in the worst mass shooting in modern US history. On Tuesday, a two-year-old Nebraska boy was attacked by an alligator and killed at Walt Disney World.
Read more: https://www.theguardian.com/world/2016/jun/18/christina-grimmie-thousands-say-farewell-to-slain-voice-singer