Christine Diane Tiegen, better known to most of us as
Chrissy Teigen
, is a model, cookbook author, TV host and one of the funniest people on Twitter.
She's been
married
to
John Legend
, whose real name is actually John Roger Stephens, since 2013. After their wedding in Italy, Teigen ― for one reason or another ― kept her last name and didn't become Chrissy Legend.
Recently, a Twitter user posted a question asking why women didn't take their husband's last names after marriage. Teigen hilariously responded and broke it down in just eight words.
"My husband didn't even take his last name?" the 32-year-old said, referring to the fact that even John goes by a stage name (which was originally his nickname at the University of Pennsylvania).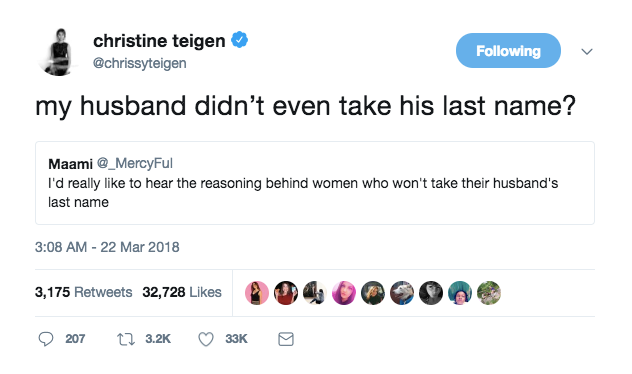 That settles that.
Teigen and Legend have a daughter together, named Luna, and she has John's real last name: Luna Simone Stephens. The two are expecting another child together, a baby boy, who will presumably also have the last name Stephens.
Though they've got the last name picked out, the two were still deciding on a name for their new addition just a few months ago.
"We love going the music route [for names]," Teigen told People in January, before she publicly confirmed she was having a boy. "John loves looking at who he grew up with or people he grew up listening to. And maybe we'll have a little baby Todd Smith, I don't know. Maybe we'll have a little Simone."
<
div class="content-list-component" bn-content-list-text yr-content-list-text text">
"It's hard. We're like, 'Ella Fitzgerald, that's such a pretty name!' We go back and forth on everything but this isn't our only baby so we're going to divide up the names," she added.