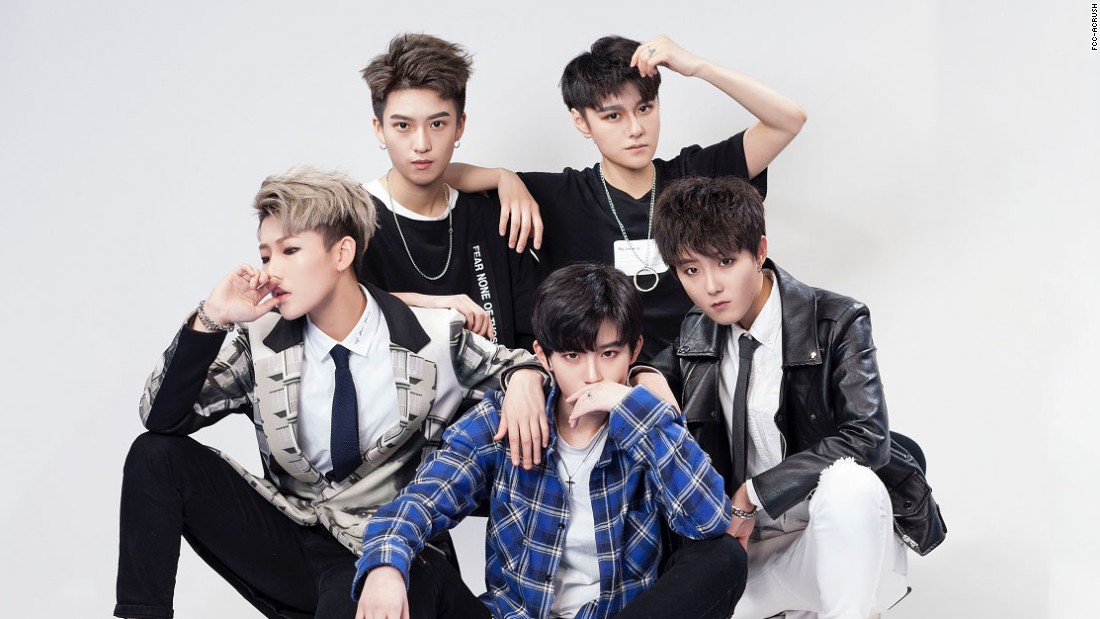 (CNN)Made up of all girls, this "boy band" is the latest in the androgyny trend in China.
"We're a girl band. But we look more like beautiful young men, not young girls," said band member Min Junqian. "So the positioning fits us more. "
Their promotional photos present the five girls ages 18 to 24 in short hair, ties with pants, sitting with spread-out legs. They also are shown in shorts, like tomboys playing soccer, for their affiliation with the sports brand Fantasy Football Confederation (FFC). Their formal name is FFC-Acrush, with "A" standing for the Greek god Adonis.
<
ul class="cn" cn-list-hierarchical-xs cn–idx-7 cn-zoneadcontainer">
"We're just tapping into the unique beauty of gender neutral," said Wang Tianhai, head of the band's entertainment company. "We recognize this group of people who represent a special sense of beauty and a unique sense of handsomeness, and we reckon that this style may become a trendy element."
Wang stressed that Acrush's style is not a gimmick, with all the girls dressing like boys before they joined the band.
"I was a professional ballroom dancer who dresses in sexy skirts. But in real life, my look is similar to the band look," said Acrush lead singer Peng Xicheng.
Entertainment startup Zhejiang Huati Culture Communication Co. Ltd. created the band, auditioning and training members from all over China, after the overwhelming success of androgynous Chinese pop idol Li Yuchun, who attracted many female fans and critics, who dubbed her "Bro Chun."
In 2005, Li won "Supergirl," a Chinese females-only talent show akin to "American Idol." She went on to grace the cover of "Time Magazine Asia" that year, star in the movie "Bodyguards and Assassins" with Chinese megastar Fan Bingbing in 2009 and secure lucrative ad contracts for Gucci.
"Since then, all young women nationwide find that girls who are dressed as guys are no less handsome and more sexually attractive and secure than real guys," said Lei Ming, CEO of ABD, a Beijing entertainment consultancy.
"In the subculture, neutral-looking, slender and short-hair girls resemble the ideal male image in the world of manga (Japanese comics). This positioning appeals to a lot of people of the new generation."
Cross-dressing is not new for China, said Chinese sexologist Li Yinhe, who cites the example of Hua Mulan, the legendary woman warrior who dressed like a man to fight in her father's place, a story made popular by the Disney cartoon.
"This pop band is just today's version … so people in China will not find it strange and find it easy to accept," said Li, who pointed out historical examples where men and women were not allowed to share the stage, like the Peking Opera, where male actors dressed as female characters, and Yue Opera, where women played male roles.
Jieyu Liu, who specializes in the sociology of gender in China, said, "gender boundaries are blurring" with popular Korean and Japanese dramas presenting more feminine male characters.
"That is the trend it's not really fixed what the image of male is and what the image of female is," said Liu, Deputy Director of the SOAS China Institute, at the SOAS University of London. "But this is only appearance, the fundamentals have not changed."
She added the gender roles, especially for the older generation in China, remain the same. Males are still expected to be dominant as the breadwinners and women are still expected to marry.
Acrush members will not say what their sexual orientations are, only that they are indeed "girls" and do not care what others think. But in the end, it is their music, not their image, said entertainment consultant Lei, that will dictate their success.
Lei added, "In the long run, it still depends on if they could make good music."
Read more: http://www.cnn.com/2017/04/27/entertainment/china-acrush-boy-band-androgny/index.html