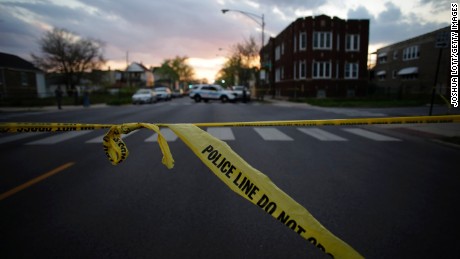 (CNN)Reinforcements are coming to a violent Chicago.
As a major part of a plan to combat crime — including the city's worst homicide rate in decades — the police department said it will be adding nearly 1,000 positions to ranks.
<
ul class="cn" cn-list-hierarchical-xs cn–idx-4 cn-zoneadcontainer">
The hires, which will take place over two years, will include more than 500 new patrol officers and 92 field training officers to help train the new recruits, Superintendent Eddie Johnson told reporters Wednesday.
Officers — $47,604
Training officers — $54,552
Detective — $70,278
Sergeants — $76,932
Lieutenants — $87,402
Source: Chicago Police Department
There will also be promotions for existing officers, with 200 new detectives, 112 new sergeants and 50 new lieutenants, he said.
Johnson said the major hiring boost comes after a meeting a few months ago with Mayor Rahm Emanuel, who helped Johnson build a plan to improve the department's strength.
"Let me tell you, people — the mayor delivered for us," Johnson said
End all, be all? Unlikely
Neither Johnson nor the Rev. Michael Pfleger — a
priest known for his voluminous criticism
of Chicago's violence, unemployment, underperforming schools, gun proliferation and lack of economic development — believe the hires represent a panacea for the city's crime.
"The violence in Chicago is not a police-driven problem, and it's not just for the police to resolve," Johnson said Wednesday. "We need the police, the community, elected officials, clergy — everybody has a vested interest in resolving the crime issue in Chicago."
Johnson said he is already seeing some positive changes.
"Listen, we didn't lose trust overnight. We didn't, so we're not going to gain it back overnight. But I think some of the things that we're doing in the last few months have shown the people of Chicago we are trying to be transparent and we are trying to get their trust back."
Pfleger, likewise, told CNN affiliate WLS that much remains to be done.
"We can't police our way out of this. If we don't also put the same kind of commitment to jobs, to economic development, housing, to good schools then, you know, we're going to find ourselves with the same problem we have right now," he said.
On path to 700 homicides
Not even children are safe, as hundreds under 18 are among the city's more than 3,000 shooting victims. It's a level of violence the city hasn't seen in almost 20 years.
In fairness, Chicago police have garnered positive recent headlines as well. Last week, Sgt. Bryan Topczewski was dubbed a hero and a boy's "guardian angel" for his quick response to a shooting scene where 10-year-old Tavon Tanner had been hit by a stray bullet.
Topczewski stanched the blood flowing from the wound
next to the youngster's spine and was credited with saving Tavon's life.
Topczewski later said he was leaving a homicide scene when he got the call. It was at least the fourth shooting that day, he said.
Read more: http://www.cnn.com/2016/09/21/us/chicago-police-department-hire-thousand-officers/index.html