Police say that the singer, who struggled with substance abuse, is suspected to have killed himself in a private residence in Los Angeles County
Police have confirmed that Chester Bennington, the lead singer of band Linkin Park, has died.
His death at his private residence in Palos Verdes Estates in Los Angeles County at approximately 9am Thursday morning was confirmed by the coroner and is being treated as a suspected suicide.
Bennington, who was 41 years old, joined the group in 1999 and became a household name the year after with the release of the bands debut album Hybrid Theory, which was nominated for a Grammy award for best rock album. Their second album, Meteora, has sold over 27m units and the band collaborated with Jay-Z for 2004 EP Collision Course.
Bennington also fronted the Stone Temple Pilots from 2013 to 2015 and made small appearances in the films Crank and Saw 3D. When his close friend and fellow musician Chris Cornell, lead singer of the bands Soundgarden and Audioslave, killed himself this past May, Bennington honored him on Twitter and performed at his funeral.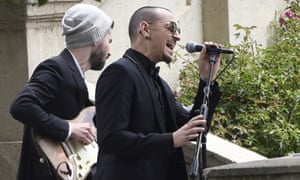 Read more: https://www.theguardian.com/music/2017/jul/20/chester-bennington-lead-singer-of-linkin-park-dies-at-age-41