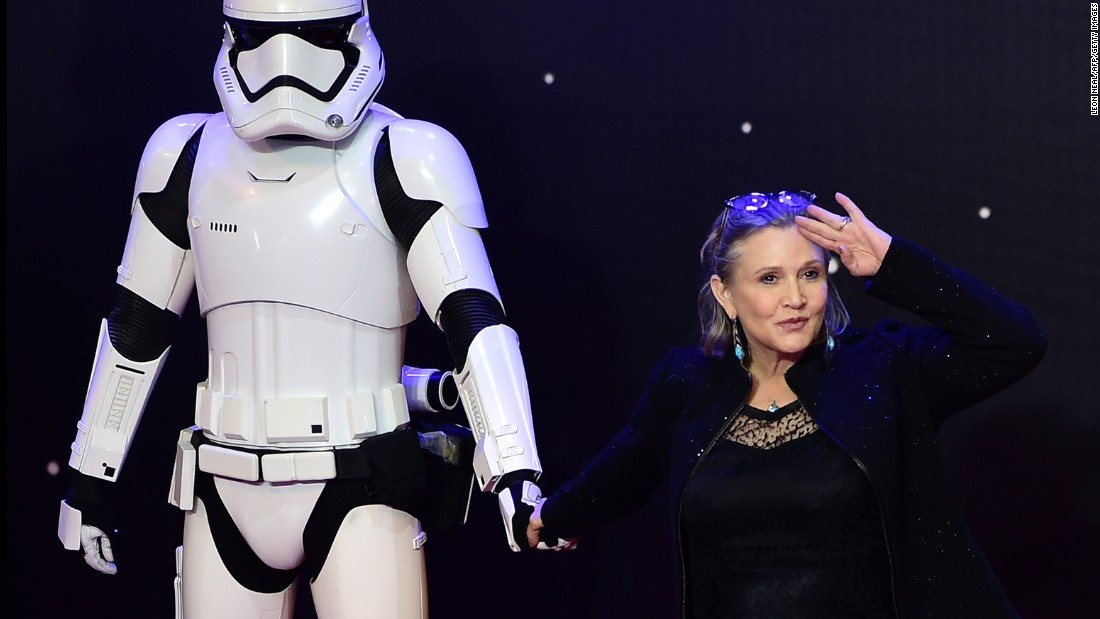 (CNN)Carrie Fisher went into the family business, but that never stopped her from turning a jaundiced and very funny eye towards it.
The daughter of actress Debbie Reynolds and singer Eddie Fisher, who famously left Reynolds for Elizabeth Taylor, Fisher — who died Tuesday at 60 years old — achieved the sort of iconic success befitting show-business royalty by playing Princess Leia in the "Star Wars" movies.
<
ul class="cn" cn-list-hierarchical-xs cn–idx-4 cn-zoneadcontainer">
Yet she always appeared a reluctant star, more comfortable in the role of court jester — maintaining a sense of bemusement over both her upbringing and little items like the gold bikini she modeled in "Return of the Jedi," thoughts she articulated in free-wheeling fashion by writing about the absurdities of her privileged perch.
Fisher began with the semi-autobiographical book "Postcards From the Edge," about an actress wrestling with addiction, which she later adapted into a movie that starred Meryl Streep. She also wrote and starred in a one-woman show, "Wishful Drinking," which became a 2010 HBO special that included a riotous rundown of her extended family tree.
In the show, Fisher wryly thanked "Star Wars" creator George Lucas for her stalkers, spoke of being born to "simple folk" and poked fun at her exes, singer Paul Simon and Bryan Lourd, a partner in the powerful talent agency CAA.
Although Fisher will be best remembered for Princess Leia, her acting career went well beyond "Star Wars," however pigeonholing the role might have been. She had, in fact, been in London working on the well-regarded Amazon comedy "Catastrophe" before suffering a heart attack en route home.
But in many respects, it was writing that offered the fullest expression of Fisher's talents. In the 1990s, she developed a reputation as a Hollywood "script doctor," doing uncredited rewrites and punch-up work on screenplays for movies such as "Sister Act" and "Hook."
When it came to her life, Fisher was honest almost to a fault. She made news recently with a memoir titled "The Princess Diarist," in which she revealed, among other things, an on-set affair with Harrison Ford during the making of "Star Wars" — at a time when she was just 19 and Harrison, then 33, was married.
Despite being a product of Hollywood, Fisher never lost her jaded view of the town's eccentricities, or the fleeting nature of fame. In "Wishful Drinking," she tartly referred to celebrity as "obscurity biding its time."
Like so many who occupy the spotlight, Fisher presented something of a contradiction. She was someone who knew the vagaries and pitfalls of the Hollywood machine better than most but waded in nevertheless, then built a cottage industry around pointing out how ridiculous it could be.
Read more: http://www.cnn.com/2016/12/27/entertainment/writer-script-doctor-carrie-fisher/index.html