<figure class="media-landscape" has-caption full-width lead">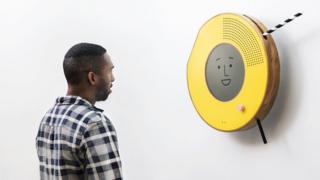 Image copyright Uniform

Image caption Solo, the "emotional radio", tries to read your mood from your expression
Would we get on better with clever machines if they understood what mood we were in?
Many roboticists and computer engineers seem to think so, because they're always trying to make their creations more human.
Take Solo, the "emotional radio", for example. A wall-mounted device that resembles a large clock, it features a liquid crystal display at its centre. When you approach it, the pictogram face shows a neutral expression.
But it then takes a photo of your face, a rod or antenna on the side cranks into life, and the LCD display indicates that it's thinking.
"When it's doing this, it's analysing different features of your face and deciding how happy, sad or angry you are," explains Mike Shorter, senior creative technologist at the Liverpool-based design and innovation company, Uniform, Solo's creator.
<div id="bbccom_mpu_1_2_3″ class="bbccom_slot" mpu-ad" aria-hidden="true">