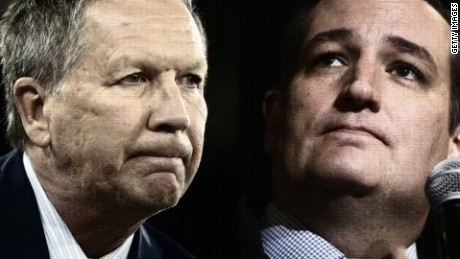 (CNN)The gloves are off.
<
ul class="cn" cn-list-hierarchical-xs cn–idx-4 cn-zoneadcontainer">
Trump's response was fast and "on brand." In a tweet he wrote that it was desperation for the two to "collude in order to keep me from getting the Republican nomination."
For months pundits and politicians have speculated that there would be backroom dealings aimed at denying Trump a first-ballot win and a brokered Republican Convention this summer. That speculation is over; there is going to be a public brawl. You thought politics couldn't get more interesting, nasty or sink any lower.
This is like two parents divorcing and begging the kids to pick favorites. It's public, it's ugly, it's confusing — and it's going to blow up in Kasich's, Cruz's and the GOP's face.
What on earth is the Republican Party doing?
Once again, on all things strategy, Trump is 100% correct. Is this an act of too-late desperation? Yup. Is it collusion? Textbook. And how are Cruz and Kasich joining forces? "Game of Thrones" style: They are trading states to consolidate delegates, in hope of beating their common enemy, Trump.
Kasich is telling his voters to back Cruz in Indiana, and likewise, Cruz will not compete against Kasich in Oregon and New Mexico.
Read more: http://www.cnn.com/2016/04/25/opinions/kasich-cruz-trump-robbins/index.html