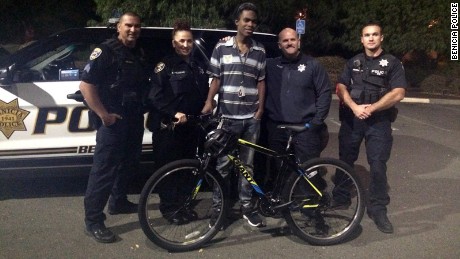 (CNN)Jourdan Duncan used to listen to music as he walked to work, five hours there and back. These days, it's the sound of the wind that fills his ears as the California teenager rides to work on a new bicycle, the gift of local police officers who felt his dedication ought to be recognized.
The 18-year-old from Vallejo, California, was excited to start his new job as a packaging line worker in May, but when his car broke down in July, he said the only way to get to work was to walk. The 15-minute commute by car to the job in Benicia turned into a two-and-a-half-hour walk each way.
<
ul class="cn" cn-list-hierarchical-xs cn–idx-4 cn-zoneadcontainer">
"I just felt like I would be a bother to people if I kept asking for rides, so I kind of just kept cool," Duncan said.
One Saturday night, Benicia Police Cpl. Kirk Keffer was driving down Industrial Way, in an area of warehouses and industrial buildings, when his headlights caught Duncan walking along the road.
"I didn't know what to think. Industrial Way is never really traveled by foot. There are no sidewalks out there — just trucking companies, garbage companies — so he kind of took me by surprise," Keffer said.
The 11-year law enforcement veteran said he jumped out of his car to see if he could help Duncan, thinking he was stranded or that his car broke down, and was shocked when Duncan said he was walking all the way home to Vallejo.
"I said, 'How do you plan on getting there?' He said, 'Walk, like I always do.' And I said, 'You walk all the way to work and home two and a half hours each way?"
Keffer said he immediately cleared out his front seat and offered Duncan a ride home.
Impressed by his work ethic
In the car, the two men made small talk, and Keffer said he learned Duncan wanted to become a California Highway Patrol officer and was saving money for college.
Keffer said he recognized Duncan's dedication, since he, too, always had a dream of being a police officer and saved money to put himself through the police academy.
"I was taken aback. There are not too many kids these days who will walk five hours to go to work and are saving money for college," Keffer said.
"It's refreshing. I told him, 'I admire what you do. With a work ethic like that, you're going to go far,' as I dropped him off."
Keffer said he could not stop thinking about Duncan and went back to the police station determined to find a way to help. That's when he saw his sergeant, who is vice president of the police officers' association.
"I told him about my contact with Jourdan and said, 'We need to do something for him. What could we do — can we get him a bike?'"
Keffer said they put it to a vote by email to the association, and the idea was approved immediately.
The local bike shop was closed Sunday, so Keffer said he went first thing Monday morning.
"I told (the owner) what was going on, so he helped me pick out a mountain bike because Benicia is very hilly, a helmet, and he donated a lighting system" because Duncan works at night.
Next, Keffer said he called the supervisors at Duncan's job at Pro-Form Laboratories to get his work schedule, and found his shift ended at 11:30 that night. Keffer, joined by a few other Benicia police officers, then went to wait for Duncan to get off work.
The shift ran long, however, so Keffer called Duncan's supervisor once again and asked her to send him outside.
"I could see him inside the building looking at me like he was scared to come out, and I had to reassure him," Keffer said. "I said, 'You're not in trouble — we want to give you something.'"
The officers wheeled the bike out from behind the patrol car and Duncan was stunned.
"He was just like — he still didn't put it together — like, 'You're giving me this bike?' And I explained that we want you to be safe and we want to help you with the commute, at least to get you there faster, and he was really speechless. He didn't say anything," Keffer said.
Building trust, motivating others
"We meet people on their worst day — that's just the nature of our business. Either you're getting a ticket or you're getting in a fight with somebody, or you're getting arrested, or you've lost a loved one, so I can understand how most interactions with police are negative because they are normally not on good terms," Keffer said.
"Our police department is a small department, we strive for community relations, and our chief wants us to get out from the police car and wants us walking the beat and interacting with the public and establishing the trust to know that we are one of you (the community)."
Keffer said he plans to stay in touch with Duncan, offering him a ride along in the police car, giving him rides to work when he runs into him and calling him from time to time.
Duncan, who hopes to start community college in January, says his friends now call him famous or a celebrity because of the media attention, but he just brushes it off.
"People notice me on my bike. They'll point and ask me, 'Hey, you're the guy off the news, right?' and they'll say, 'Keep up the good work,' and it really makes me happy," Duncan said.
He said he recognizes that walking so far to work is impressive, "but I never expected or thought that I could motivate this many people by just them hearing that I walk to work — and I was just amazed by how many people out there acknowledge what I did."
Read more: http://www.cnn.com/2016/10/01/us/california-police-bike-teen-trnd/index.html