<figure class="media-landscape" has-caption full-width lead">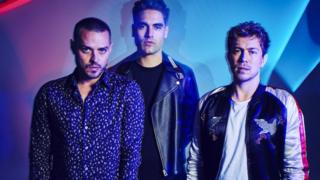 Image copyright Busted

Image caption Busted as they are now in 2016 – Matt Willis, Charlie Simpson and James Bourne
As former boyband Busted return with a surprising new sound, channelling Daft Punk and 1980s movies, they tell us why its time for people to change their perceptions.
Charlie Simpson, Matt Willis and James Bourne found fame and legions of young fans as Busted in the early 2000s, thanks to hits like What I Go To School For, Crashed the Wedding and Year 3000. But once a punk rock boy band, not always a punk rock boy band, apparently.
"Yeah we have a past," admitted Busted at the recent press launch of their first new album in more than a decade, Night Driver. "But we have a future too."
After an acrimonious split in 2005, when Simpson left to concentrate on his other band Fightstar, the band patched things up last year to announce 2016's Pigs Might Fly reunion tour. But they also decamped to LA to try and write a new album, channelling 'grown up' influences like Skrillex and the 1980s movies they watched as kids.
""I'm very glad we did," Charlie Simpson told the BBC. "It was the first time we'd really just been together without any pressure from anyone and I think we're just really proud of the result."
<
div id="bbccom_mpu_1_2_3″ class="bbccom_slot" mpu-ad" aria-hidden="true">