Since 2000, David Miles Jr has been running the popular 24-hour and inclusive roller rink. Weve always had the most black people of any camp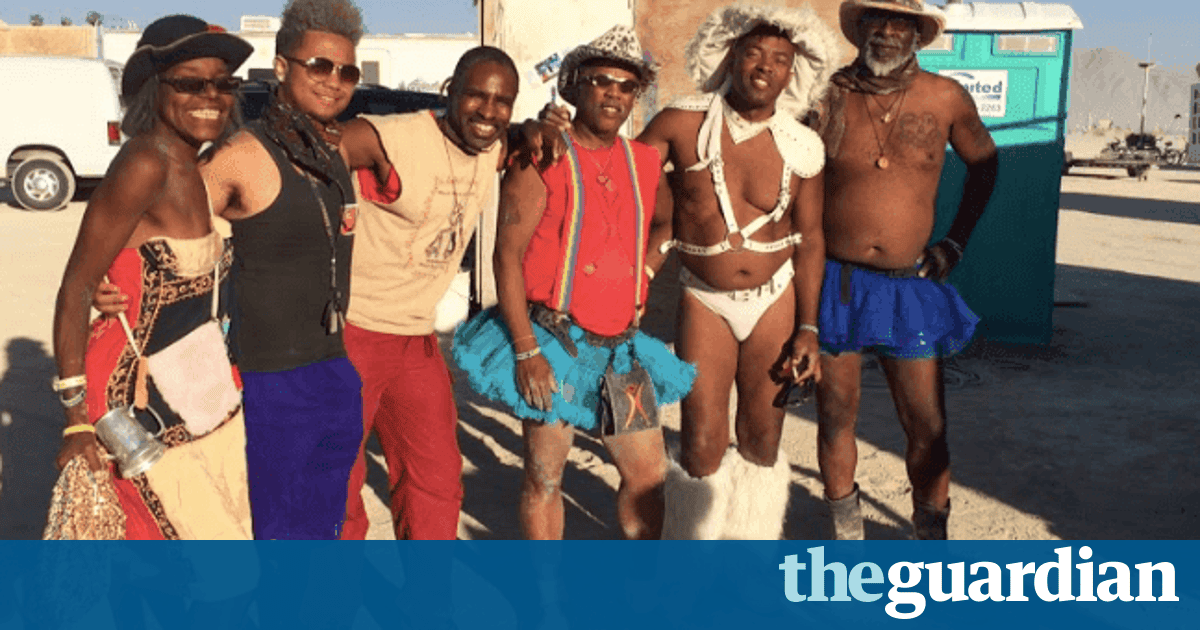 Every year at Burning Man, people repeat the same refrain about the festival, and life in San Francisco: that things arent what they were. That the city has been ruined by techies and their money. That gentrification has pushed out all the black folks and people of color, and everything creative has turned to dust.
But you will never hear anything like that from David Miles Jr, better known as the Godfather, the legendary black impresario who has been running Burning Mans popular 24-hour roller rink, Black Rock Roller Disco, since 2000.
Miles has been a fixture in San Franciscos skating world since he came out here with a one-way bus ticket in 1979 from Kansas City. Today he hosts the popular Church of 8 Wheels skate party in the former Sacred Heart Church in the Fillmore district.
In San Francisco, you can do anything, Miles declares with a broad smile and no hint of irony. Whatever you think you can do, just knock yourself out and do it, and theyll love you for it, he says.
Many people who have skated in San Francisco in the past few decades have done so with Miles at some point, and nearly everyone whos been to Burning Man will have passed by Black Rock Roller Disco, which is routinely voted as a favorite theme camp. Long before he had regular skating gigs, though, Miles went to Golden Gate Park, saw people skating and said to himself, Now that looks cool. Im gonna get me some skates.
He began volunteering for a local skate patrol to help people out, which was badly needed: What do you think is going to happen when you have a roller skating rental shop on top of a hill? he asked. Hed help people down the hill or be there at the bottom to wipe them up from the blood.
Over the years, he became a kind of Cosmo Kramer of skating. Youd think Id get a job or something, he said, but skating became his job. He gave lessons, coached, raced and threw skating parties at places as different as a shuttered Catholic church and Googles R & D lab. He and his wife raised their three children, now in their 20s, all on money he made from skating.
Life has never been better, he said when we entered the skating floor before skaters had arrived. Im the luckiest man whos never won the lottery. He was wearing a red fur ankle-length vest, his strong arms showing, and a top hat with a gold Burning Man logo. Other than being inside and free of dust, he looks exactly the same in his everyday life in the default world, what Burners call the world away from the playa.
The Church of 8 Wheels is impressive, located inside of an architectural marvel that Miles says was once the largest Catholic church west of the Mississippi. Its history is rich the Black Panthers once gave out food here. There are still signs of its Christian roots in ornate images preserved in enormous stained glass windows, but the real religion is roller skating, good music and getting down. Every pew has been stripped out, leaving a beautiful wood floor for people to spin, glide, and dip around under Gods eye. Where one might expect to see a cross where the altar once was, theres Princes insignia.
As we talked, the doors opened and the first skaters arrived to Walter Murphys A Fifth of Beethoven burning up the speakers. It is one of the most diverse group of people Ive ever seen inside a building in San Francisco: a group of black women celebrating a birthday, young tech bros, a contingent from the Dutch consulate. There are young folks and oldheads, like an elderly black couple dressed all in white who have moves that scorch the floor. Theres the guy who can skate so low that his butt is just inches off the ground, drawing the notice of a group of gay men.
Before he launched the Church of 8 party, one of Miles most infamous events was Friday Night Skate, which came about because of the earthquake of 1989. The devastating quake shut down the Embarcadero freeway, he recounted. Me and a group of skaters, we were skating around one night and we saw this sign that said, Do Not Enter. And of course we went up there.
Imagine how great! he says, laughing heartily. It was fantastic a freeway closed to traffic! Smooth asphalt with skating for miles along the waterfront. Eventually, the party merged with the Critical Mass cyclists, and wed get up to 800 people every Friday night.
After that, Miles became more and more engaged in Californias skating scene but the big change in his life came when he went to Burning Man for the first time in 1999, at the invitation of two guys who were running the Black Rock Roller Disco.
It fit into everything I have always been, he said of his first experience. It fit into a lifestyle where anyone can come, where everyone is welcome and theyre there to have a great time. The inclusiveness, the camaraderie of Burning Man, it matches who I am and what I do. But, he thought, I had to be sure that this wasnt phony. Do I really want to buy into this, or is it a bunch of shit?
He had so much fun that when he was asked to take over the Black Rock Roller Disco the next year, he gladly did and he brought lots of friends with him. Weve always had the most black people of any camp, he noted, adding: Its not a contest!
Back at the Church of 8, Miles points to a group of skaters circling around the rink. Look at these smiles! he said. Theyre happy! Its contagious! It makes you forget about all the other stuff. You dont think about Donald Trump or Hillary. You dont think about the economy, or what cop just shot someone. For a moment in time, youre just having fun. We need that! And for me its my job. I love my job!
Read more: https://www.theguardian.com/culture/2016/aug/28/burning-man-roller-disco-godfather-david-miles-jr