<figure class="media-landscape" has-caption full-width lead">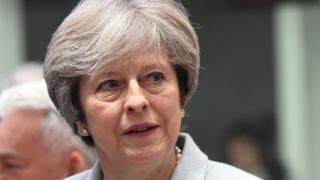 Image copyright AFP

Image caption PM May wants the Brexit talks to widen to include deals over trade and transition
Brussels is being far more cautious than the UK press when it comes to trumpeting an agreement on the Brexit bill.
European Commission chief Jean-Claude Juncker is to host Prime Minister Theresa May at a working lunch next Monday.
This coincides with the EU-imposed deadline on the UK to prove sufficient progress on the three main Brexit issues – citizens rights, money and Ireland. Or else, Brussels has warned the UK it can forget its dearest Christmas wish – for talks to widen and include discussion of trade and transition deals.
The EU believes the prime minister couldn't, shouldn't and wouldn't come here empty-handed.
But EU diplomats say the Commission is waiting to listen to Mrs May – tête-à-tête – before it will make any formal statement. They insist negotiations around the three main Brexit divorce issues are continuing.
<div id="bbccom_mpu_1_2_3″ class="bbccom_slot" mpu-ad" aria-hidden="true">