<figure class="media-landscape" has-caption full-width lead">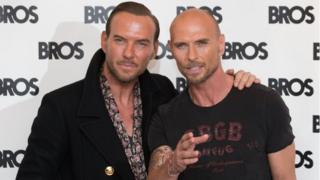 Image copyright AFP

Image caption The twin Goss brothers are now 48 years old
"There's a big difference between having to do something and wanting to do something," says Matt Goss.
"And that's the key element here: We wanted to be on stage together again."
Finally, after decades of unanswered Brosette prayers, Bros have reunited. They will play a one-off (for now) show at the O2 Arena in London next August – 28 years to the day after their final show at Wembley Stadium in 1989.
After announcing the gig to the world at a press conference in London, twin brothers Matt and Luke, who still look improbably chiselled at 48, sat down to discuss their comeback with the BBC.
It will be "outrageously enjoyable," they promised…
<div id="bbccom_mpu_1_2_3″ class="bbccom_slot" mpu-ad" aria-hidden="true">