<figure class="media-landscape" no-caption full-width lead">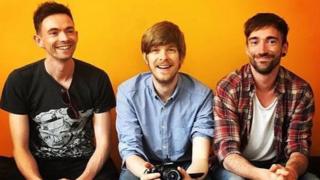 Image copyright Facebook
British band TTNG and US musician Mylets have been briefly detained in Hong Kong over alleged visa offences.
According to media reports, the band members were held after a raid by police and immigration officers on a warehouse venue hosting their gig.
The founder of concert agency Hidden Agenda, which organised the gig, was also taken away by police.
It was the latest in a string actions on Hidden Agenda events, which have often struggled with licence issues.
Concert-goers posting on the promoters' Facebook page said around seven immigration officers came to detain the band members, citing issues with their work permits.
<div id="bbccom_mpu_1_2_3″ class="bbccom_slot" mpu-ad" aria-hidden="true">