<figure class="media-landscape" has-caption full-width lead">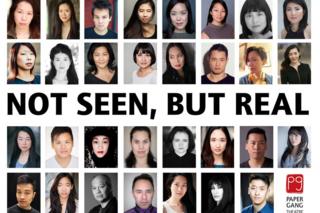 Image copyright Paper Gang Theatre

Image caption A poster of East Asian actors, used at a "Yellowface" protest in 2017
British East Asians say they still face serious prejudice when it comes to casting in theatre, TV and film, and are at risk of being seen as an "invisible" minority.
"The representation of East Asians tends to be stereotypical, or involve racist tropes (in TV and theatre)," says actress Lucy Sheen.
"Women are generally depicted as slim, petite, long-haired, submissive 'lotus blossom' types, prostitutes, or illegal immigrants, while East Asian men are portrayed as asexual or effeminate."
East Asian actors are rarely cast in non-race specific roles, and are frequently expected to put on a Chinese accent when acting, and yet many producers consider "Yellowface" – casting white actors as Chinese characters – to be acceptable, she adds.
The playwright and actress, who has acted in Call the Midwife and EastEnders, is one of several writers to be featured in a new anthology, Foreign Goods.
<div id="bbccom_mpu_1_2_3″ class="bbccom_slot" mpu-ad" aria-hidden="true">