<figure class="media-landscape" has-caption full-width lead">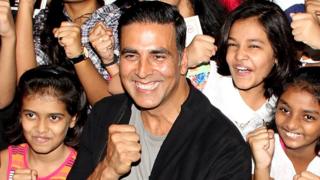 Image copyright Getty Images

Image caption Akshay Kumar, one of Bollywood's biggest stars, has been filming in Britain
Bradford, Doncaster and Rotherham are providing the backdrop for a major Bollywood film starring one of India's biggest names – just one of the foreign productions contributing to Britain's film-making boom.
Anyone who happened to peer through the railings of Doncaster Racecourse last week would have been met with a surreal sight.
India's 1936 Olympic hockey team were greeted by a cheering crowd as they climbed off a vintage coach, before Nazi officers viciously beat a couple of their overenthusiastic fans.
Behind them, giant swastika banners were draped from the racecourse's historic Clock Tower Stand.
But this was just a film set, and Doncaster Racecourse was doubling as Berlin's 1936 Olympic Stadium. It will appear in Gold, an epic new Bollywood movie that tells the story of India's Olympic hockey players in 1936 and 1948.
<div id="bbccom_mpu_1_2_3″ class="bbccom_slot" mpu-ad" aria-hidden="true">