<figure class="media-landscape" has-caption full-width lead">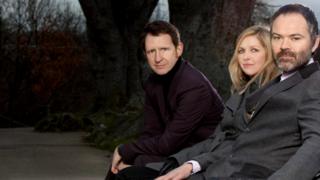 Image caption Bob Stanley (left) lets his love of pop shine through in St Etienne, who turn 27 this year
Every time a rock star dies (and, let's face it, it's happened a lot recently) a few trusted books get grabbed off the BBC bookshelves for a hastily-written obituary.
They include classic tomes like the Guinness Book of Hit Singles and Colin Larkin's peerless Encyclopaedia of Popular Music, but they've been joined recently by Bob Stanley's Yeah Yeah Yeah.
Packed with anecdotes and insights (he describes Berlin-era David Bowie as "a silent movie ghost"), it reflects pop through the prism of the charts, rejecting the "rockist" perspective of most reference books.
"A film isn't necessarily more enjoyable if it's based on a true story," Stanley explains. "Likewise, a song isn't necessarily any better or any more heartfelt, or convincing, because it was written by the singer."
Although Yeah Yeah Yeah ends in 2000, Stanley had already come up with chapter headings for the next instalment, including the fantastic "Oops I Did It Again and Again", about the Swedish hit factory behind Britney Spears, Taylor Swift and Justin Timberlake.
<div id="bbccom_mpu_1_2_3″ class="bbccom_slot" mpu-ad" aria-hidden="true">