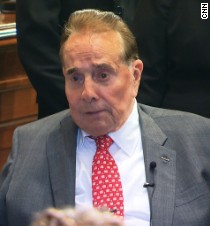 Washington (CNN)Former Republican presidential candidate Bob Dole says Hillary Clinton's past could make it difficult for her to become president.
"I think Hillary has a lot of baggage and while she doesn't admit it, it's there. Very clearly things she shouldn't have done," Dole told CNN's Ana Cabrera on "CNN Newsroom" Saturday.
<
ul class="cn" cn-list-hierarchical-xs cn–idx-4 cn-zoneadcontainer">
Dole didn't specify particular controversies surrounding Clinton, who recently has been dogged by allegations of misfeasance regarding her email use while leading the State Department, as well as her leadership during the 2012 Benghazi terrorist attacks.
Dole said voters want to see a new face in the White House.
"She has been there a long time and people are looking for fresh faces. That's why (Marco) Rubio was attractive for a long time, because he's a new generation," he said.
"I mean, she's been around what, 30 years? I don't know. A long time," Dole said.
Dole also said Bill Clinton's health will affect his ability to campaign for his wife, though he didn't refer to a specific health issue affecting Clinton.
"Bill Clinton, who would be a great asset, has had this health problem and doesn't look strong and robust like he has been in the past," the 92-year-old Dole said.
The 69-year-old Clinton, who is younger than Dole was when he unsuccessfully challenged the 42nd president in 1996, underwent a quadruple bypass to restore blood flow to his heart in 2004.
A representative for Clinton didn't immediately respond to a request for comment Saturday afternoon.
"(The health issue) affects his voice. He is not going to be able to go out there with the fire and brimstone he would have had earlier," Dole added. "He could be an adviser, certainly, if not in an official capacity, if he is in the White House with his wife should she be elected as president. He would be along her side."