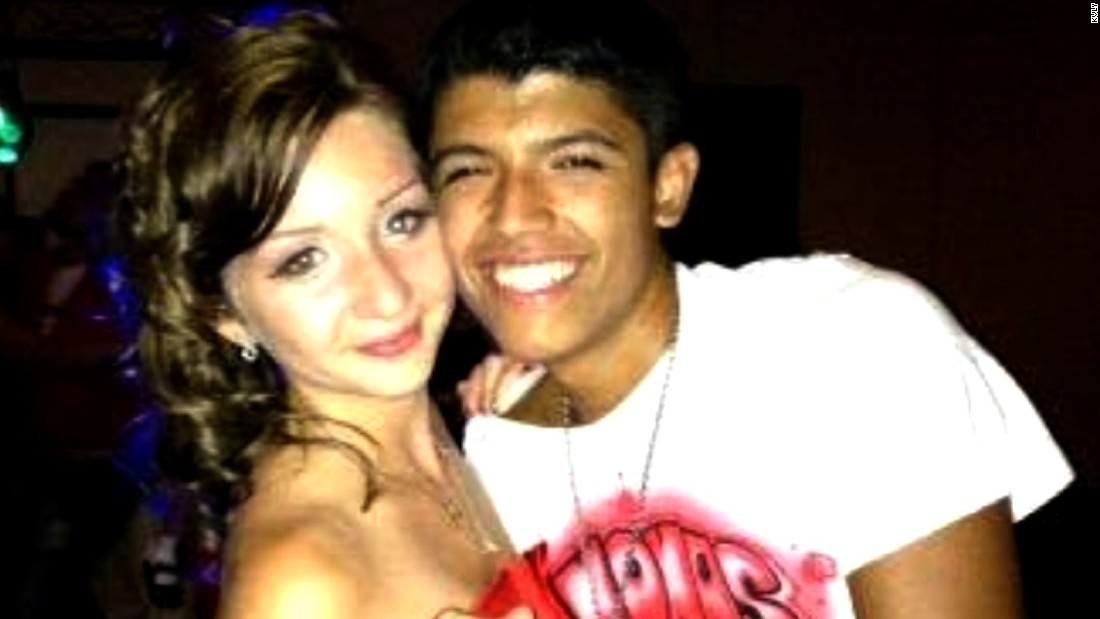 (CNN)An attempt to go viral on YouTube ended in death and a manslaughter charge this week, the latest bid to win online fame that has ended badly.
Police in Minnesota said Monalisa Perez, 19,
shot and killed her boyfriend Pedro Ruiz III
on Monday as part of a video the pair planned to post on YouTube. Thinking it would protect him, Ruiz held a book up over his chest as Perez fired at him from a foot away with a handgun, police said.
But the book failed to stop the bullet, and Ruiz was pronounced dead from a single gunshot to the chest.
<
ul class="cn" cn-list-hierarchical-xs cn–idx-5 cn-zoneadcontainer">
Perez, who is pregnant, has been charged with second-degree manslaughter. She faces up to 10 years in jail and a fine of up to $20,000 if convicted.
Path to fame can be swift nowadays
There's certainly nothing new about fame-seeking stunts ending in disaster.
Evel Knievel, one of the world's best-known stuntmen, rose to fame in a series of daring motorcycle jumps, with many ending in spectacular, bone-crunching failures.
In Knievel's 2007 obituary,
The New York Times detailed
a motorcycle jump early in his career that saw him land in a box of rattlesnakes, much to the delight of audience members.
"Right then," Knievel said, "I knew I could draw a big crowd by jumping over weird stuff."
In the old MTV reality show "Jackass," stunts often resulted with Johnny Knoxville or Steve-O puking or going to the hospital.
But nowadays the path to fame is much simpler: Do crazy stuff, film it, post a video on YouTube and then watch the likes and subscriptions roll in.
There's more to it, of course, but the allure of Internet celebrity — and money from sponsorship revenue — has led to a number of online stunt challenges or pranks with various mishaps in recent years.
As the Minnesota shooting death proved, these can go awry in disastrous ways. Here's a look at a few other instances of Internet stunts or pranks that were taken too far:
Planking
The fad of planking was an Internet photo sensation a few years ago. The idea was for people to lie down flat — like a plank of wood — in odd or humorous places, take a photo and post it online.
Most of these stunts were simple and silly, but one-upmanship eventually took over as daredevils planked in more outrageous and dangerous places.
In May 2011, a 20-year-old Australian man lost his balance and
fell to his death
while attempting to plank on the balcony of a high-rise, police said.
Queensland police at the time warned people to stop trying to "outdo" each other.
"The potential disaster increases as more and more risks are taken to get the ultimate photo," a police statement said.
Playing tricks on kids
As Jimmy Kimmel's recurring "I Told My Kids I Ate All Their Halloween Candy" videos have shown, tricking children into tears and anger is a great way to rack up views and likes on YouTube.
Though often harmless, the trend may have hit a low point with the YouTube account DaddyOFive, with Michael and Heather Martin pulling pranks on their five children and then posting videos online.
In one video, the parents destroyed their son's Xbox One. In another, they goaded their kids to play a game in which they slapped each other in the face.
The account, which had about 760,000 followers, eventually garnered a
fierce critical backlash
. In April, the parents posted a teary public apology, admitting they went too far.
"What started out as family fun and entertainment took on a life of its own," they wrote in the video description. "Before we knew it, we were caught up in our family's popularity, which led to some poor decisions. Upon reflection, we realize there were mistakes made that caused our family some pain."
In May, the Frederick County, Maryland, Sheriff's Office served a court order taking away custody of two of the children back to their biological mother, Maj. Tim Clark said. Clark said he wasn't sure of the children's custody status now.
"They were caught up in their own characters and popularity," Fallston Group, a public relations agency, said in a statement. "They were blinded by YouTube fame and again, upon reflection, made some very poor decisions."
'Duct tape challenge'
<
div class="el__embedded" el__embedded–fullwidth">
<
div id="body-text_36″ class="media__video–responsive" " data-video-id="us/2016/01/27/duct-tape-challenge-teen-injured.kiro">