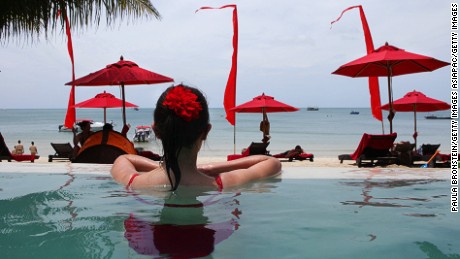 (CNN)It was when she flew from the United States to Italy and back in under 36 hours that Marian Thier knew things had to change.
"I landed in Florence at six o'clock in the morning, gave a keynote speech and returned to the airport that evening to fly back to the U.S.," says Thier, founding partner of a business leadership consultancy.
"I thought, I am never doing this again."
With business travel a major part of her life, the Colorado-based Thier decided to start adding a few extra days before or after trips to explore each destination, and recover from her long journeys.
Work and play
This turned Thier into a so-called "bleisure" traveler — a term used to define professionals who are shunning the all-work-and-no-fun grind of business trips by mixing them with vacation time.
According to a 2015 trend report by travel website Skift, work travel is emerging as a lifestyle rather than necessity for some people.
Nearly half of them did so on most occasions, and six out of 10 said they were more likely to take bleisure trips today than they were five years ago.
"It makes the stress of business travel more bearable," says
Stuart Bruce
, a British public relations adviser whose work frequently takes him all over the world.
Whether it's extending a work trip to India to see the Taj Mahal or arriving early to do a Bosphorus cruise in Istanbul, Bruce says he always builds in extra time to acclimatize and see the sites.
"It definitely makes me work better," he says.
"I'm more relaxed, but I also get a better understanding of the city and culture that I'm working in," he adds.
Marian Thier agrees there's more to bleisure travel than simply ticking off a few tourist attractions.
In fact, her clients often foot the bill for her to arrive a day or two early, so that she can be rested and focused when it's time to start the job.
"To get our best work, we cannot be exhausted when we get there, and in the scheme of things it probably saves the client money because people are more engaged," she says.
Business and pleasure
Taking a bleisure trip doesn't always mean flying solo.
Sarah Cloninger, a corporate trainer who writes the
Road Warriorette
blog about business travel, tries to bring her spouse and children along when possible.
"My husband has been on business trips with me all over the U.S.," she says.
"Once my son was born they were still able to join me on several of the more fun locations like Las Vegas, beaches, the mountains," Cloninger adds.
Savvy travelers can even find ways to turn what could be a joyless business assignment into a memorable trip for two.
"A while back I was on a working trip to Singapore," says Harriet Baskas, a Seattle-based multimedia journalist and author of
Stuck at the Airport
blog. "We cashed in airline miles so my husband could meet me there and share my very nice hotel accommodation."
"Singapore was on our 'to do' list, but this made it possible to do it now."
App-oriented planning
There's a consensus among bleisurites that research is key when it comes to making the most of limited time in a new location.
But many hit the ground running with the help of apps.
"I always try to buy a local SIM card so I've got cheap mobile data," says Bruce, who uses the
Moovit
app to get real-time public transport information all over the world.
"You experience far more and enjoy it better on public transport than in a taxi so I try not to use Uber unless I really have to because of odd flight times or tight deadlines," he says.
Cloninger relies on review sites
Yelp
and Urbanspoon (recently bought by
Zomato
) to find restaurants in unfamiliar cities, and trawls travel message boards to get tips on sites to see.
But is it ever really that enjoyable to mix business and pleasure?
"Travel is now a part of work," says Marian Thier, "so anything that you can do to make yourself more relaxed, focused and more present is what people should be looking for, not just ticking off the next leg of your journey."
Read more: http://www.cnn.com/2015/10/13/travel/bleisure-travel/index.html