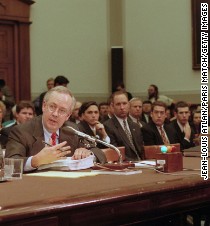 Washington (CNN)As Donald Trump is dredging up Bill Clinton's past to use against his wife, the man who served as the chief antagonist of Clinton in the '90s has nothing but praise for the man he investigated.
Kenneth Starr served as the independent counsel who scrutinized Clinton during his presidency for the Whitewater investigation that led to the Democrat's impeachment hearings. But at an event last week, Starr praised his former target and put aside the "unpleasantness."
<
ul class="cn" cn-list-hierarchical-xs cn–idx-4 cn-zoneadcontainer">
"President Clinton was and perhaps still is the most gifted politician of the baby boomer generation," Starr said during a panel discussion with the National Constitution Center for the book "The Presidents and the Constitution: A Living History."
Starr lamented the chapter on Clinton's presidency was so focused on the investigation he conducted.
"It's sad that the chapter is so, shall I say, rooted in the unpleasantness, as I used to call it, the recent unpleasantness, that it was so tragic for the country," Starr said.
The comments from Starr come as the presumptive Republican nominee is increasingly bringing up Bill Clinton's past to attack his wife, Democratic front-runner Hillary Clinton. Trump has been unafraid to bring up everything from Clinton's past infidelities to debunked conspiracy theories about the suicide of Vincent Foster, a deputy White House counsel and lawyer for the Clintons.
But despite Trump's attacks, the man who dug up the most dirt on the Clintons took the opportunity to speak only highly of Clinton and his talent as a politician.
"Leave aside the unpleasantness, his genuine empathy for human beings is absolutely clear," Starr said of the former President. "It is powerful, it is palpable and the folks of Arkansas really understood that about him — that he genuinely cared."
Starr also likened Clinton's philanthropic work post-presidency to that of Jimmy Carter, calling "redemptive."
"President Carter I think set a very high standard, which President Clinton clearly continues to follow," Starr added.
Read more: http://www.cnn.com/2016/05/24/politics/kenneth-starr-bill-clinton-praise/index.html