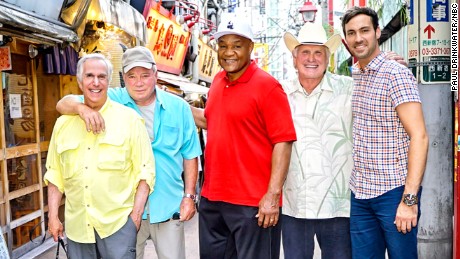 Los Angeles (CNN)"Better Late Than Never" is a refreshing idea for a reality show, if only because it dares to feature as its stars four guys who, taken together, are almost 300 years old.
Ad-supported TV operates in a fairly narrow space, motivated by a desire to reach adults under 55 for sales purposes. Yet here's NBC gambling on four old guys visiting six cities in Asia, laboring up steps, warily eyeing the local food and scratching items off their bucket lists.
Unscripted series are often short on reality, and this summer tryout — which NBC is giving a helpful push coming out of the Olympics — is more fabricated than most. Featuring four veteran performers in William Shatner, Henry Winkler, George Foreman and Terry Bradshaw, the program is really a sitcom (notably, three of the producers are credited as "writers," an admission reality shows seldom make), with a touch of travel show thrown in.
<
ul class="cn" cn-list-hierarchical-xs cn–idx-4 cn-zoneadcontainer">
What makes the concept work, or at least sporadically fun, is the easy banter among the players — foremost among them Shatner, who is, at 85, the group's eldest member — and the sheer audacity of the premise. (The show is adapted from a South Korean format; that international parentage might explain why NBC was willing to take a chance on something well outside American TV's usual demographic sweet spot.)
Granted, it would be more enjoyable if the situations weren't so staged. The inclusion of comedian Jeff Dye, a young fellow (relatively, anyway) cast as the gang's sort-of chaperone and unnecessary sidekick stands out as a particularly sore thumb.
The group has clearly been encouraged to bicker, at times so much one practically expects to hear laughs or groans from a studio audience. And they seem determined to spout the sort of lines a Millennial would imagine grandpa muttering, such as Bradshaw marveling about how short everyone in Japan is. (In that regard the show resembles another series that starred Shatner, the short-lived CBS comedy "$#*! My Dad Says.")
Still, there are some fundamentally human moments, such as when Shatner talks about grappling with his own mortality. And there are funny ones, like when a naked man walks past them in their Tokyo hotel. "I didn't know he was Jewish," Shatner deadpans.
"Better Late Than Never" might be better if it hadn't assembled a random assortment of people for its cast, as opposed to choosing participants with more shared history. That, at least, would give it less of an arbitrary feel, and there are plenty of famous senior citizens who would fit that description and who would likely welcome the chance to see the world on NBC's dime.
Maybe next time. Until then, it's welcome to see a primetime TV show have the temerity to acknowledge that there's still room for adventure in one's demographically undesirable years. From that perspective, better late than nothing.
"Better Late Than Never" premieres Aug. 23 at 10 p.m. on NBC.
Read more: http://www.cnn.com/2016/08/22/entertainment/better-late-than-never-review-nbc/index.html