As inspiring as it was to watch black people speak up about the state of the world, it was equally as depressing to see how corporate the entire affair was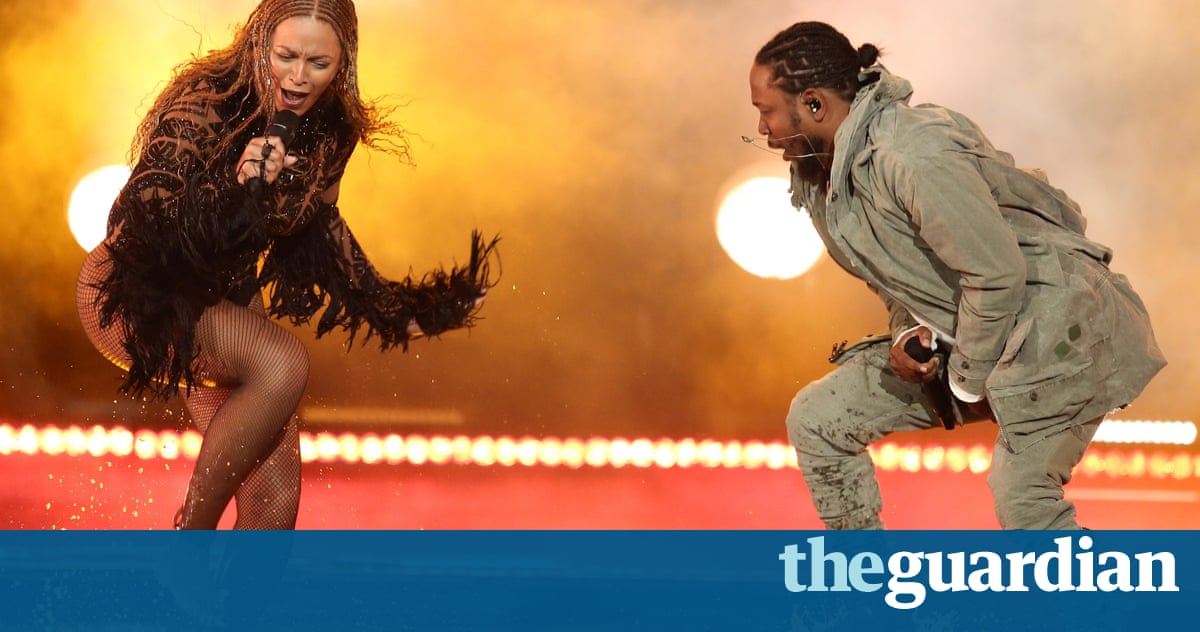 Ideally, the BET awards should be a sort of state of blackness an awards show that doubles as a celebration of an entire culture. If you want to know where black people stand in the United States, tune in to the BET awards. Just dont expect a polished, thrill-a-minute, suspense-filled evening of television. At most, maybe you can hope that DJ Quik might forget hes on basic cable and use the F-word or you might see Lil Kim dressed like a mermaid.
That last nights show was unabashedly political with a memorable acceptance speech by Greys Anatomy actor Jesse Williams as its centerpiece and struck the right tone of fear and loathing was fitting after a week and 12 months that have been perilous at best. The BET awards took a stand for responsible gun legislation, against systemic racism, and for the lives of black people everywhere. It was a great show, unless it was doing literally anything else. You had to swim through missed cues, daft comedy sketches and awards that felt like they meant nothing, even to the winners. Plus, the dominance of advertisers was staggering. As inspiring as it was to watch black people speak up about the state of the world, it was equally as depressing to see how corporate the entire affair was.
The below is my running commentary a record of my decent into boredom.
5.01pm: The BET awards are filmed live from the Microsoft Theater in downtown Los Angeles. Your hosts are Black-ish stars Anthony Anderson and Tracee Ellis Ross. Are they opening with Beyonc performing Freedom? Bold choice.
5.03pm: Theres a large pool in the middle of the stage, which my wife tells me is part of Beyoncs tour set-up. Well, now we know Beyonc doesnt actually walk on water. I can see very clearly that her feet are fully submerged. Like, how is anyone going to follow this? Why not have her go last to force people to stick around and watch the entire show?
5.09pm: So, to follow Beyonc and Kendrick Lamar, Tracee Ellis Ross and Anthony Anderson do some Billy Crystal melody of popular hip-hop songs in the style of Hamilton and theres not a joke in sight. I guess they all thought it would be enough to put them in silly costumes and sing modern songs. They were sorely mistaken.
5.12pm: Congrats to everyone whos ever wanted to see R&B star Anthony Hamilton stroke a musket between his legs. The camera cuts to Birdman and DJ Khaled, who legitimately look unhappy to be there.
5.15pm: The first of many cutaways to the crowd revealing a person texting rather than watching the show. Memo to anyone who ever attends one of these events and gets to sit in proximity to a camera: they are filming you. Assume they are always filming you. If you are making plans for the after-party, wait until after the show. If you are sliding in some DMs, thats even worse. There should be a firm No DM Sliding rule at the BET awards. Having never been, maybe there is and I just dont know. That would explain why JR Smith didnt attend this year.
5.21pm: BiBi Bourelly performs in front of a giant Nissan ad.
5.27pm: Best male R&B/pop artist goes to Bryson Tiller. Tiller thanks his granny, which proves we are watching the BET awards. When was the last time a white artist thanked their grandmother for anything?
5.29pm: Desiigner performs Panda. Instead of rapping, Desiigner does some rudimentary tricks with his microphone throwing it in the air and catching it, flipping it in the air and catching it, and finally, moving it close to his mouth while pretending to rap.
5.31pm: MC Lyte has to sit at some desk sponsored by Coke a mile away from the stage and announce the commercial breaks. Did I mention that everything on this show is sponsored? Even the bumpers before the actual commercials are sponsored.
5.38pm: Wow. Surprise! Michael B Jordan didnt show up to the BET awards. Deon Cole says he was too busy being knocked out somewhere. Is that a reference to Creed or a diss? I know what it wasnt: a good joke. Dave Chappelle comes out wearing sunglasses to kick off the Prince tribute, classing up the joint for a second.
5.40pm: The Roots, Erykah Badu and Bilal perform. Badu sings The Ballad of Dorothy Parker while half asleep. Bilal sings The Beautiful Ones, nailing the famous high notes at the end. Props to Bilals struggle braids and 10 gallon bags under his eyes.
5.55pm: Next is the Shine a Light advertisement … I mean award, presented by the US Air Force. Young black men, you too can be heroes if you just enlist in the military! Just saw two more guys texting in the front row.
5.56pm: Was Kevin Hart not available to host this? Fat Joe, French Montana and Remy Ma perform their hit song, All the Way Up. They brought out some geishas and now I want to say something about cultural appropriation, but Im going to bite my tongue. Maybe theyre not geishas since they also have swords?
6.00pm: One of the guys in the cast of the upcoming BET New Edition biopic named Keith Powers is dressed like the villain from an episode of Miami Vice or a random hanger-on from Rick Jamess posse. The real New Edition comes out and the cameras cut to Floyd Mayweather who looks completely bored. I think this was supposed to be a big moment, but Bobby Brown has pissed away literally all of his goodwill for obvious reasons.
6.03pm: The physical BET award looks like a trophy you give to the winner of a child beauty pageant. Taraji P Henson gives an impassioned plea to black people to vote while accepting her award for best actress.
6.12pm: Alicia Keys played the guitar in a red jacket surrounded by a bunch of synthesizers and random equipment. Thats all I got for this one. The music sounds like she turned into a coffeehouse open mic act. I half expected DJ Khaled to stand up and say that, yes, order number 23 the almond butter croissant and the soy latte is his. Then she tosses one of the synthesizers and throws up, like, westside or something.
6.16pm: Snoops new album is called Kool-Aid, which is like Lemonade, but worse for you. Jermaine Dupri and Birdman join him to promote a BET show about music moguls. You think Lil Wayne will pop up in the season finale?
6.27pm: Stevie Wonder and Tori Kelly perform Princes Take Me With You. Im so bored. Im going to walk my dog.
7.00pm: Im back from walking my dog. A great Muhammad Ali tribute is introduced by Jamie Foxx and his daughter. Layla Ali comes out and makes me tear up.
7.08pm: Maxwell was invited to perform some Prince music, too. I got a glimpse of Kardashian baby daddy Scott Disick during Nothing Compares 2 U chewing gum and looking for the nearest exit. Memo to white people: If you were GIFTED an invite to the BET awards, show some respect and pay attention. You might learn something useful, like how to nae nae or dab or something. Maxwell added some lyrics about Spotify to Nothing Compares 2 U.
7.13pm: Tracee Ellis Ross mentioned the many uses of water on the stage tonight. Nevermind the very serious California drought. Make it rain! Anthony Anderson drank the pool water from Beyoncs performance and said it tastes like Lemonade. Theyre officially not trying to be clever.
7.15pm: Debra Lee, president and CEO of BET comes out to call for gun control legislation, gives the humanitarian of the year award to Jesse Williams. I wont quote the entire speech, but heres a sample:
<
blockquote class="quoted">
Now the thing is though, all of us in here getting money, that alone isnt going to stop this. All right? Now dedicating our lives to get money just to give it right back for someones brand on our body, when we spent centuries praying with brands on our bodies and now we pray to get paid for brands on our bodies.
7.31pm: The following segment is brought to you by the United States Air Force.
7.32pm: Theres a Cadillac on fire in the back of Futures performance like hes in a bad Hype Williams video. Another cutaway to a dude texting.
7.35pm: Nissan has long been a sponsor and supporter of the BET Music Stage, says Empire star Jussie Smollett. Anderson.Paak gets the honor of shilling for a car for four minutes before cutting to another commercial.
7.44pm: Janelle Monae performs another Prince tribute. So far, no one has done Batdance, which is a colossal missed opportunity.
7.58pm: Spike Lee presents the lifetime achievement award to Samuel L Jackson. Dont get tricked like they got tricked in London. I think they got tricked in the rest of England, too.
8.09pm: Tracee Ellis Ross is wearing a veil over her face and a sweatshirt like she just left Tommy Hilfigers funeral. Usher is out to perform his boring new song. You can find Ushers music at Applemusic.com/Usher.
8.18pm: DJ Khaled promotes the premiere of his I Got the Keys video. Khaled comes on stage with a Coca-Cola to present an award to some person Ive never heard of and then give out the viewers choice award, which is apparently the most important award of the night. Beyonc is nominated for this one. If Beyonc ever doesnt win a peoples choice or viewers choice award, you know it must be rigged. Tina Knowles comes up to accept the award because, while Bey was happy to perform, when she was done, she got the hell out of the arena.
8.26pm: Sheila E is out playing the drums. I love Sheila E and all, but this show is really freaking long. Its been three-and-a-half hours of ads for soda pop, fast food, and affordable mid-sized automobiles. The camera cuts to Jamie Foxx singing Erotic City to his daughter. Its just as weird as it sounds, folks.
8.34pm: More Tracee. More Anthony. More 2016 BET awards. Next! No. No more. Please. Please God. Can I just watch Game of Thrones now?
8.38pm: Its finally over, with a complete and utter whimper, but not before Anthony Anderson gets a chance to thank Viacom. Theres some kind of after-show that I am not going to watch because I have to sleep.
Read more: https://www.theguardian.com/culture/2016/jun/27/bet-awards-beyonce-prince-tribute-political-rhetoric