The long read: John Di Domenico has been playing Donald Trump longer than anyone else except Trump himself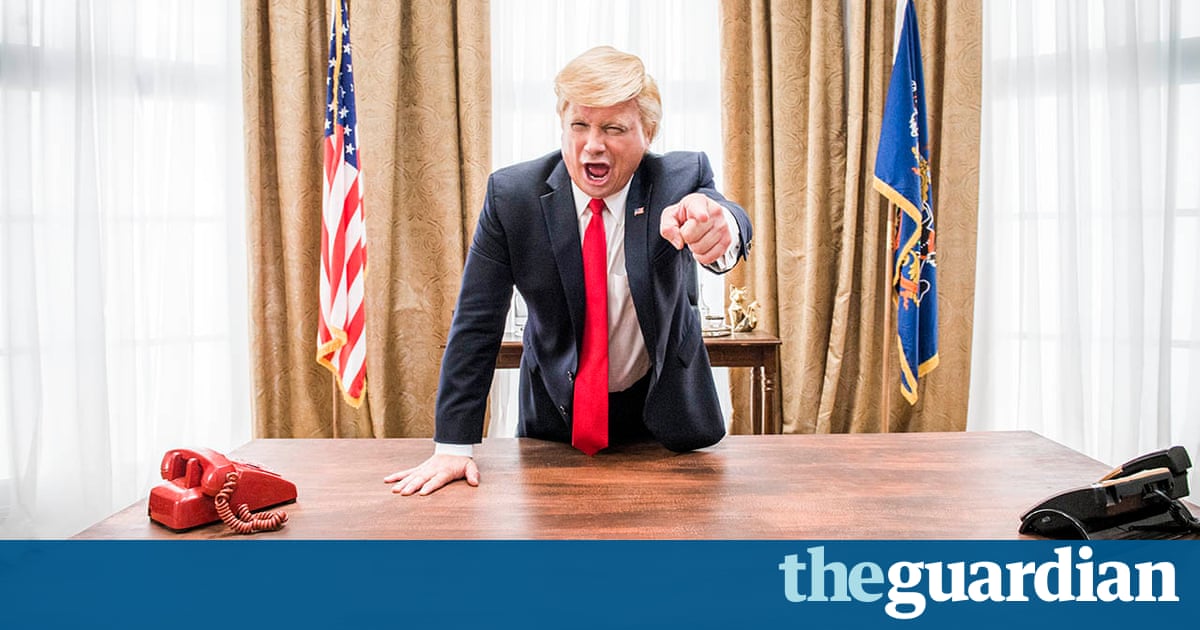 John Di Domenico looks nothing like Donald Trump: hes 17 years younger, several inches shorter and a natural brunet, though lately he keeps his head shaved to make putting on the coppery wig easier, and his eyebrows bleached to match. Becoming Trump requires a full hour of hair and makeup. He tapes three large photographs of the president, one in profile and two straight-on, to any mirror hes using, and then uses Ben Nye CoCo Tan foundation to turn his skin the requisite shade of atomic tangerine, dabs on wrinkles, lengthens his nose, and so on. Trump has quite a big head, but theres not much anyone can do about that.
Even with the elaborate costume, Di Domenicos physical resemblance to the president requires a little imagination but of the many people who do Trump, his take is the most uncanny. Its the voice. He recreates the uncommon way that Trump, to use Di Domenicos phrase, speaks from his teeth; the wild fluctuations of nasality; the inconsistent New York accent; the sibilant Ss and exaggerated vowels. He has also mastered the neck jerk, the squint, the off-tilt swagger. When Conan OBrien and Chelsea Handler needed a Trump for their late-night talk shows, they called Di Domenico, and he has also become a regular on Fox Newss morning talk show.
Di Domenico enjoys the appearances on Fox and ABC, the cameos on Glenn Becks radio show, the invitations to do adverts and spoof films, but he makes his living at corporate events, trade shows and private parties. Hes the guy executives hire to keep middle management amused at national sales meetings, or to provide a little excitement at the launch party of a flu-reduction medicine. Hes the booth decoration that gets passersby interested in your carpet company. He is the entertainment. He can do Guy Fieri and Jay Leno and Austin Powers and Dr Evil, but for the last decade his trademark impression has been Trump. At the peak of the 2016 campaign, that one impression earned him as much as $40,000 a month.
Whenever Di Domenico appears in public in costume, people turn and gawk. They pull out their phones to take video, or they laugh spontaneously. Oh my god, they say. Or, breathlessly, Donald!
One afternoon in March, exiting a New York hotel, the sight of Di Domenico-as-Trump sent the front desk manager into a fit of giggles that verged on a panic attack. Oh my god, the guy kept saying, trying to catch his breath. No way. Faux Trump squinted, aimed a presidential finger in the mans direction, and agreed to a selfie.
In the photograph, Di Domenico has his chest and gut thrown out, as if hes leading from the widest point of his red sateen tie. The wig crests low over his brow. Hes flashing a presidential thumbs-up with one hand, his head is cocked to one side so his eyes squint unevenly, and his mouth has that protruded, half-open look of an aggravated orangutan. Its all correct.
Di Domenico handed the man his business card, with details of how to find him on social media. Tag me, he said, Youre terrific. And left.
Two college-aged guys hanging around stared after him, vaguely stricken. Its really good, said one. His friend nodded and looked around the lobby, presumably for Secret Service agents, or a hidden camera crew. What the fuck is going on?
---
As a professional impersonator,Di Domenico makes his living in an America where, as the historian Daniel J Boorstin wrote in 1962, fantasy is more real than reality. We have become, he wrote, the first people in history to have been able to make their illusions so vivid, so persuasive, so realistic that [we] can live in them. By the time Trump started to appear on the front pages of New York City tabloids in the late 1980s, politics, religion, news, athletics, education and commerce had been transformed into congenial adjuncts of showbusiness, as the cultural theorist Neil Postman famously wrote in 1984. Under this new dispensation, celebrities emerged as the unpredictable real-life stars of a never-ending show unfolding in real time. Thirty years later, Americans remain so compelled by the power of celebrity to make life feel entertaining and meaningful that we are thrilled by the mere facsimile of a famous person, so long as he conveys a hint of the same magic.
When Trump declared his candidacy, he turned himself into the most visible celebrity in the world, and Di Domenicos career exploded. By Di Domenicos estimation, peak demand for Trump impressions came during the election cycle, when Trumps political aspirations could still be seen as a joke that hadnt yet arrived at the punchline. Di Domenico worked every day for more than a year. He was soon joined by a cadre of other Donalds: the comedian Anthony Atamanuik, whose work Di Domenico admires (Trump is all id. Anthonys Trump is the id on steroids,); the prolific impressionist Frank Caliendo; Tonight Show host Jimmy Fallon; and, of course, Alec Baldwin on Saturday Night Live. Di Domenico, though, has been doing this for 13 years longer than any other major Trump impersonator which not only lends him a bit of godfatherly cred, but also gives his impression singular nuance.
The relationship between the impersonator and the impersonated is a bizarre form of intimacy. Apart from its lopsidedness, the connection is almost spousal, marked by the closeness that comes from living with someone day after day for years and years, memorising their gestures, assimilating their speech patterns. Theres admiration and irritation, conjecture about the others intentions and inner life, struggles to keep a separate identity, and the sense of ownership that comes from believing you know a person better than anyone else. Its a parasitic homage.
Di Domenico keeps inside him, nested like matryoshka dolls, all the many selves Trump has fashioned in the last 30 years: Trump the businessman on CNN silkily telling Larry King in 1989 that his breath stinks; Trump the reality television star firing Cyndi Lauper on The Celebrity Apprentice in 2010; Trump the candidate declaring that he could stand on 5th Avenue in New York and shoot someone without losing a vote. Di Domenico talks about Trump with the same casual authority he displays when talking about himself. Hes gained a lot of weight lately, hell remark offhandedly. Or, Nah, he doesnt have OCD. Or he has selective OCD. Frequently, Trumps cadence will sneak its way into Di Domenicos speech: a nasal vowel, a tremendous.
Every morning, Di Domenico reads the news, scanning for any stories or new behaviours he needs to incorporate. He can list and demonstrate Trumps most common gestures, most of which only appeared when he entered political life. Theres the T-Rex, when he plasters his forearms to his sides and waves his stiff hands back and forth, as if conducting a tiny, mad choir. Theres the OK slightly effete, open-handed, with the thumb and forefinger pinched together and the wrist cocked and loose. And the Hi, where Di Domenico reaches out his right arm and tilts the hand up in greeting. Then theres the Heil Hitler here he straightens his wrist though hes stopped doing that. I think someone told him to stop doing that.