Li Liangwei bears no resemblance to US president, cant speak his language and admits to knowing little about his life but his star is rising
Li Liangwei may look nothing like the US president but Chinas one, and perhaps only, Donald Trump impersonator does share his tendency to exaggerate crowds.
The chain-smoking 65-year-old claims 1,000 people witnessed his professional debut at a cosmetic surgery fair in Shenzhen last December, although his agent says the real number was closer to 500.
Whatever the truth, it was an event to remember. As immaculately toned models in swimsuits and bikinis hawked aesthetic fixes to Chinas nouveau riche, Li swept onto the stage, flanked by a posse of body guards wearing black suits and shades.
Lacking the English skills to impress his audience with a speech about putting nose jobs first or making eyelids great again, Li instead reached for the poetry of Mao Zedong, reciting the communist revolutionarys verses while dressed as one of the most famous capitalists on earth.
The sky is high, the clouds are light, Li gushed in Mandarin. The wild geese flying south are out of sight!
The audience, Li claims, went wild. There was such applause!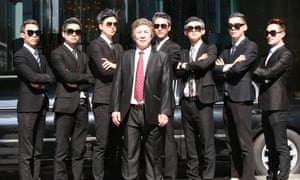 Read more: https://www.theguardian.com/world/2017/may/08/being-donald-chinas-not-lookalike-trump-impersonator-is-an-unlikely-hit