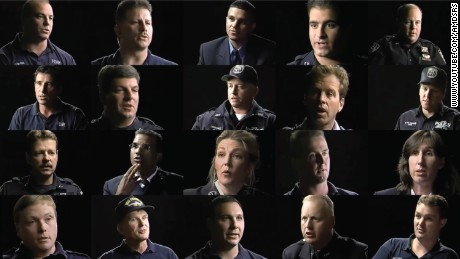 (CNN)The rifle-carrying National Guardsman must have been in his early 20s. Just weeks before, the young man would have been out of place on Vesey Street in lower Manhattan.
But on the day "Third Watch" executive producer Christopher Chulack saw him from the backseat of a NYPD police car as he drove up to Ground Zero — escorted by dust-covered New York City police officer Mike Keenan at the wheel — a fresh swarm of uniformed reservists had just descended upon the area.
<
ul class="cn" cn-list-hierarchical-xs cn–idx-4 cn-zoneadcontainer">
Keenan was a technical adviser on the show, a drama about people who ran into buildings and situations that other people would run away from. Like many other real-life firefighters, paramedics and police officers who had become a part of the drama's fabric over the first two seasons, he had reported to the scene on the morning of September 11, 2001.
It was the start to a surreal few hours that Chulack, best friend and "Third Watch" co-creator John Wells, and two others from the show spent meeting some of the men and women sorting through a stories-high mess of powdery debris and twisted metals while breathing still-hazy air.
Their visit was in prep for what would be days of on-camera interviews with first responders — some of them colleagues and friends — who had weeks before been witness to one of the grimmest days in American history. About 40 conversations with real-life first responders followed and turned into a two-hour special called "In Their Own Words," a collection of first-person accounts that even 15 years later stands as one of the most compelling and emotionally-stirring tributes to 9/11 first responders.
<
div class="zn-body__read-all">
"I'll never forget, I said to him, 'I'm glad I saw this,'" Chulack told CNN in a recent interview. "And John said to me, 'I'm not sure I'm glad I saw it.'"
For the veteran TV producers, they remember it as a rare moment where they had to capture tragedy that wasn't being created, but lived.
How to make it work
In the immediate aftermath of 9/11, Wells and the "Third Watch" team were focused not on the show itself, but on their people. Based in Los Angeles, he and others took to the phones — even though communication with those in the city was spotty at best — to check in with everyone.
They found ways to assist from afar. The show sent set lights, catering equipment and even a fire engine down to Ground Zero in the days after. Much of the Fire Department's real equipment had been damaged, so the show lent whatever resources they could.
Wells, meanwhile, had to figure out how the three shows he executive produced — "ER," "West Wing" and "Third Watch" — would address the events of 9/11.
"You're immediately confronted with the question of what you are going to do to respond to such a huge and extraordinary event that was affecting the psyche of the entire nation," he said. "I don't want to overstate what entertainment's part in that is or isn't, but you know [the attacks] were all anybody was thinking about. We were all shocked and traumatized throughout the country."
That included the people who worked on the show. In the emotionally charged days right after, in fact, there were some who wondered whether the show could go on at all.
"I think we were very aware of the fact that we were treading on thin ice in terms of how do we go back," cast member Molly Price recalled. "I guess there was this period where we all thought, 'Is the show going to get canceled?'"
Big meetings and "heated discussions" took place, Chulack remembers. He was among the dubious.
"First of all, we worked with people who were dead now," he said. "And for the people on the show, do they really want to do this show? And do we really want to travel the streets of New York City and tell cheesy stories about Ground Zero?"
As emotions calmed, communication with New York was restored and feedback from their on-the-ground advisers came in, there was largely a change of heart. Maybe they could do the show.
Like the characters the actors portrayed, the show itself was suddenly being called to duty — to find a way to honor the people who gave up so much on that day in September — and they were determined to deliver.
They decided the best way to do so was with the truth.
<
div class="el__embedded" el__embedded–fullwidth">