A crucial vote from local politicians has restored life to Beckhams stalled venture, but its not quite the show-stopping product he envisaged at the beginning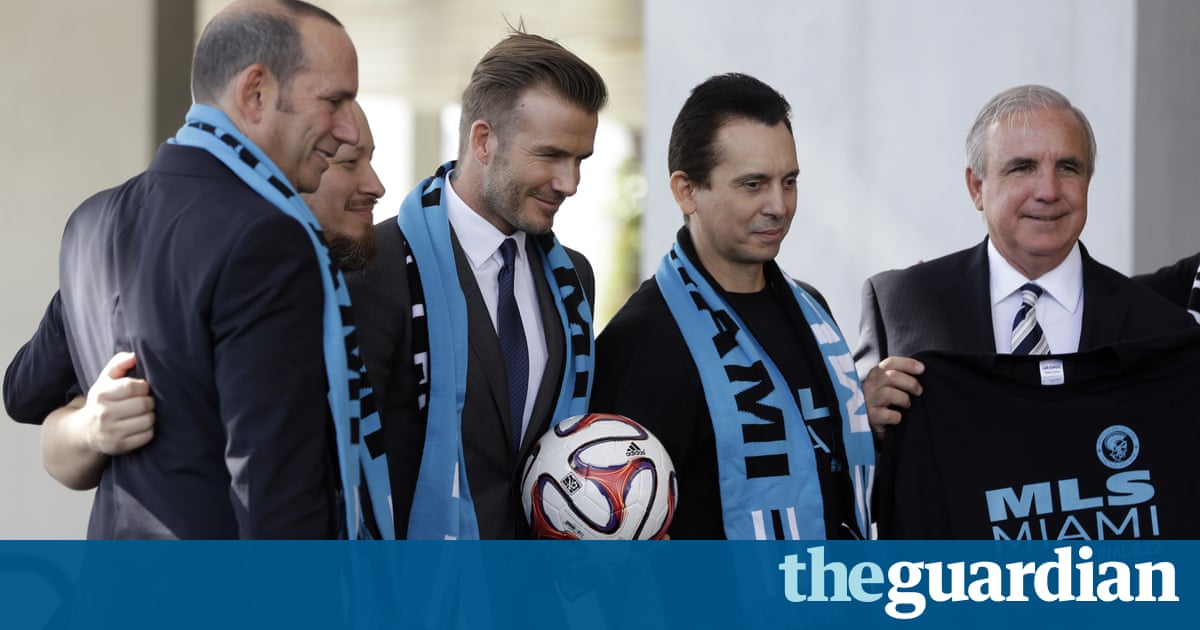 Barely a month ago, the final whistle was set to blow on David Beckhams long-held dream of launching his own professional football club in Miami, the glitziest of American cities.
What was to have been a lucrative retirement project for the former England captain appeared thwarted by a series of broken stadium deals, the snails pace of Miamis complicated political machinery and resistance from locals keen to block progress of Beckhams investment group.
Even the bosses of Major League Soccer were losing patience with the former Manchester United, Real Madrid and LA Galaxy star. Don Garber, the leagues commissioner, pointedly remarked in April that at least 12 other cities were chasing a prized franchise and their own ticket to the top table of American soccer.
Beckham, however, was always the master of the game-changing moment. Just like a trademark curling free-kick from his playing days, a simple vote from county leaders this week secured a welcome victory, one that restores life to the stalled venture and nudges Brand Beckham closer to the bright lights of South Beach.
Our heart is to be one of the best franchises in Major League Soccer and a great neighbour, partner and leader here for the kids that are playing soccer in this community, said Tim Leiweke, Beckhams friend, fellow investor and chief negotiator for the $500m (391m), privately funded project.
Major League Soccer needs Miami just as much as Miami wants Major League Soccer. Our hope is within the next several weeks the league will accept Miami and the Beckham ownership group.
The crucial development was the approval by Miami-Dade commissioners to sell a three-acre parcel of county-owned land in the Overtown neighbourhood to the Beckham team, which also includes the music and television entrepreneur Simon Fuller, Bolivian telecommunications billionaire Marcelo Claure and, as of April, financier Todd Boehly, co-owner of baseballs Los Angeles Dodgers.
The group bought the derelict sites other six acres privately for $19m (15m) in March 2016 and Beckham needed the final piece of the jigsaw to secure MLS approval for a 25,000-seat, open-roofed stadium. A team of league inspectors visited the site this week.
Yet despite this breakthrough, the MLS product Beckham now looks set to offer is a far cry from the one he envisioned back in February 2014. Then, on a stage beneath the tropical foliage of Miamis Perez arts museum, Beckham confirmed he was exercising the cut-price $25m franchise ownership option that came as a signing bonus when he signed a five-year deal to join LA Galaxy in 2007.
Miami, he declared, was the worlds most vibrant city and deserving of a soccer team to match, which he pledged would play in a downtown stadium, possibly by 2017. Who wouldnt want to play in Miami? Live in Miami? he asked, speaking passionately of fans walking along picturesque waterfront boulevards to games at a state-of-the-art stadium.
But little by little the dream began to fall apart, throttled by politics even as Leiweke worked feverishly behind the scenes to canvass support from the mayors and commissioners of the city and Miami-Dade county.
First, county politicians rejected Beckhams proposal to build at the Port of Miami, as an alliance of cruise ship operators and dockyard workers lamented that cargo loaders and crane operators were about to be replaced by peanut-sellers and ticket-takers.
Then city mayor Tomas Regalado, a one-time Beckham ally, went cold on county mayor Carlos Gimenezs plan to fill in a disused deep-water slipway and build the ground in a grand waterfront park. Stung by the realisation that a prime waterfront site had eluded him, Beckham announced in June 2014 that he was pausing to weigh his options.
Nine months passed before a venue next to the Miami Marlins new baseball stadium in Little Havana was touted, and embraced by Beckham. But he walked away frustrated in November 2015, after several individual owners refused to sell despite receiving offers well in excess of the real land value.
Facing an MLS deadline and veiled threat to award Sacramento the leagues 24th franchise in December, the group known as Miami Beckham United quickly latched on to the vacant Overtown site.
The move was a little too hasty for many residents of the Spring Garden historic district, a quiet, leafy neighbourhood on Overtowns western edge that some fear will be ruined by noise and traffic if the stadium comes to pass.
Home to one of Floridas original tourist attractions in the 1890s, Alligator Joes, where visitors gathered to watch reptile wrestling contests in deep pits, Spring Garden remains unspoiled from its 1920s heyday and is popular with young families.
The human side, the effects of this stadium arent being addressed, said resident Meredith Vey. Im not an elected official, Im not an entertainment mogul and Im not an athlete, Im just a mother trying to raise a kid in my small neighbourhood. I feel weve been betrayed by the commissioners who have stars in their eyes.
Another resident, Daeja ODonoghue, said Beckhams team called a community meeting at less than 24 hours notice last month and said the group hadnt done its due diligence.
I said, Show me the studies, the traffic studies, the feasibility studies, and they had nothing, she said. We want proof of how this is going to affect us.
ODonoghue said she was also concerned that the group planned to use the stadium for open-air concerts as well as 15 or so football games a year.
Leiweke sought to allay residents fears: People worry were going to do 20 or 30 nights of concerts and disrupt their sleeping patterns and kids. Not true, he said. Were going to cap the number of concerts we do and the genre of music. We are committed to being a good neighbour, we are committed to being a good partner.
Amanda Hand, whose house directly faces what would be the western side of the stadium, was not persuaded. They have a lot of language like we will attempt to, try to and intend to, she said. Theres a lot of aspirations and not a lot of guarantees. Aspirations are not legally enforceable.
Celebrity-starved and economically depressed, Overtown is also not quite what the limelight-loving Beckhams had in mind when they set their sights on a life in Miami.
In 2014, at the start of the odyssey, the Miami Heat were the defending NBA champions and it was common to find Beckham in a courtside seat, or chilling with his friend LeBron James, the Heat forward who was once a potential partner in the soccer enterprise.
Beckham and wife Victoria, the former Spice Girl, were spotted in Miami more often then, eating with other celebrities at the Zuma restaurant or lounging at Soho Beach House, the exclusive club the footballer still uses as a de facto office.
Times have changed: the Heat are back among basketballs also-rans and James has gone home to Cleveland. But there will be plenty to occupy Beckham in Miami as his as-yet unnamed franchise moves forward.
A first priority will be finding a big-name coach and well-known players who can deliver immediate success and catch up with Floridas two other new professional soccer teams, which stole a march while Beckhams project floundered.
Orlando City, who joined MLS in 2015, signed Brazilian World Cup winner Kaka; Miami FC, unbeaten in eight games this year in their second season in the junior North American Soccer League, are part-owned by the former Italy captain Paolo Maldini.
Beckham has said it would be disrespectful to speculate about his own potential players, especially because it could be four years before the team plays a game. But Peter Wilt, who launched Chicago Fire into MLS in 1998 as the franchises founding general manager, said Beckhams status and connections would attract big names eager to be part of the leagues planned expansion to 24 teams by 2020.
David has an allure that gives them an advantage at the start, he said. Its a dissipating advantage as he gets further away from his playing days and celebrity status, but theres still a something there. Working with Tim Leiweke, no doubt hell be smart enough and strategic enough to bring in other athletes and coaches who have that allure.
Wilt said Beckhams other challenge would be to make supporters feel part of the club.
Miami is one of, if not the most difficult, sports market in the nation because of its transient population, he said. If he can get them emotionally connected to this team theyll make it sustainable.
Read more: https://www.theguardian.com/football/2017/jun/11/david-beckham-miami-dream