<figure class="media-landscape" no-caption full-width lead">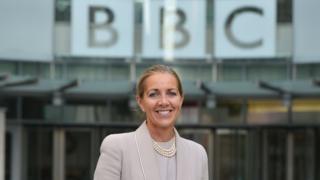 BBC Trust chairwoman Rona Fairhead has announced she will not be applying to head the corporation's new governing body.
A unitary board is to replace the external BBC Trust and internal BBC Executive.
Ms Fairhead said the prime minister had "strongly encouraged" her to take part in the new appointment process.
But she said it would be "better to have a clean break and for the government to appoint someone new".
Ms Fairhead, the first woman to lead the BBC Trust, began her four-year role in October 2014.
<div id="bbccom_mpu_1_2_3″ class="bbccom_slot" mpu-ad" aria-hidden="true">