<figure class="media-landscape" has-caption full-width lead">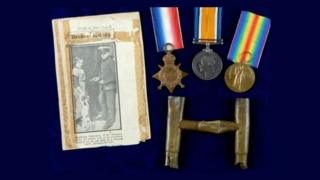 Image copyright NMRN

Image caption The fragment of the trombone has been lent to the museum, along with medals and a newspaper clipping
Part of a trombone owned by a Royal Marine bandsman on board a ship at the Battle of Jutland has gone on display.
Bandsman Frederick Charles Palfreman, aged 17, was on HMS Warspite during the World War One battle which claimed almost 9,000 lives.
His son lent it to the National Museum of the Royal Navy, along with medals and a newspaper clipping, to mark the 100th anniversary of the battle.
Nick Hewitt from the museum said it was an "extraordinary set of objects".
<figure class="media-landscape" has-caption full-width">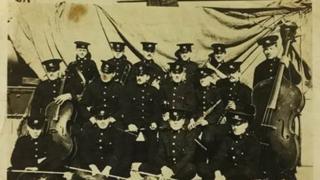 Image copyright NMRN

Image caption Bandsman Palfreman (second from left, back row) played trombone with the Royal Marines Band
"I think they really make two important points so well; that everyone on a warship was exposed to the same risk, even the band, and also that there were many participants on both sides who would today be considered children," he said.
<
div id="bbccom_mpu_1_2_3″ class="bbccom_slot" mpu-ad" aria-hidden="true">