The Eagles of Death Metal frontman also compared handing in guns to prevent gun violence to men dismembering themselves to end rape, and accused Parkland shooting survivor Emma Gonzlez of treason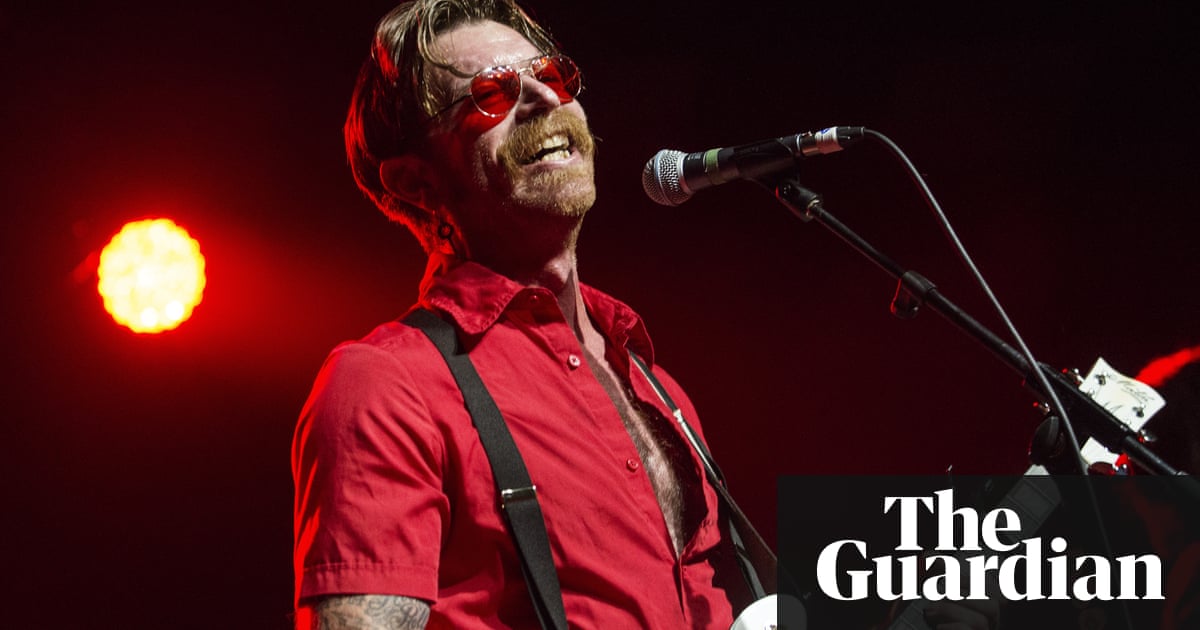 Jesse Hughes of Eagles of Death Metal, the band whose concert at Pariss Bataclan venue was targeted by terrorists in November 2015, has criticised this weekends March for Our Lives protest against gun violence, which took place across the US. Across five posts on Instagram (three of which he has since deleted), the 45-year-old directly attacked the survivors of the Parkland school shooting in Florida and shared rightwing memes.
In one of the remaining posts, Hughes shared an illustration of a woman telling a man, I turned in my gun to do my part in ending violence, to which he replies, I chopped off my own dick to stop rape. In a caption beneath the post, Hughes questions the efficacy of passing new legislation as a way of [combating] chronic abusers and disregarders of the law (like the law against Murder) and accuses the Parkland survivors of exploiting the death of 16 of our fellow students for a few Facebook likes and some media attention.
The Guardian has approached Hughess representatives for comment.
The musician continued: The Whitney Houston song about letting the children lead the way wasnt actually had [sic] operating paradigm for life…..And when the truth dont line up with your bullshit narrative just hold your breath and stamp your feet and refused [sic] to except [sic] it…. then take multiple days off of school playing hooky at the expense of 16 [sic] of your classmates blood….!…. it might be funny if it wasnt so pathetic and disgusting……
Hughes drew on his own experiences at the Bataclan: As the survivor of a mass shooting I can tell you from first-hand experience that all of you protesting and taking days off from school insult the memory of those who were killed and abuse and insult me and every other lover of liberty by your every action…..Long Live RocknRoll….. and may everyone [sic] of these disgusting vile abusers of the dead live as long as possible so they can have the maximum amount of time to endure their shame….and be Cursed….
In a deleted post, he shared a Photoshopped image of student protester Emma Gonzlez supposedly ripping a copy of the US Constitution in half. The original photo, from a Teen Vogue photoshoot, pictures Gonzlez tearing a gun range target in two. Hughes described Gonzlez as: the Awful Face Of Treason…..survivor of Nothing….Lover of Treason…..enjoy your little moment…..its about to End #stupidity #hatersofliberty #loversofsatan #borntolose #2ndamendment.
A third, deleted post, contained multiple images: an illustration of a bottle of pills labelled Hard to Swallow, followed by an image of a hand holding three pills, each bearing a caption: Our guns arent going anywhere; There are only 2 genders; and Donald Trump will be your president for 7 more years. In Hughess caption, he promised moronic dingdong headed losers that he would report any threats made against him to the FBI.
In a fourth, deleted, post, Hughes shared a photograph of a pro-second amendment patch, with the caption: I can tell you right now that the actions of these misguided youth and evil communists is making me feel terrified with every broadcast of a willing and complicit press I feel the wall of security that the Constitution provides being taken down bit by bit..
A fifth post, apparently made after deleting the previous three, contained an image of a ceramic eagle. In the caption, Hughes wrote, Ive always believed in the motto I may not agree with what youre saying but Ill die for your right to say it. Saddens me to see so many not have this motto for the same….. He said he would start a second Instagram account for his political beliefs, and preserve the fatherbadass account for RocknRoll.
After 89 people were killed by terrorists while attending an Eagles of Death Metal concert in Paris in November 2015, Hughes suggested that Frances strict gun control laws did nothing to mitigate the bloodshed of the night. Did your French gun control stop a single person from dying at the Bataclan? If anyone can answer yes, Id like to hear it, because I dont think so, he said.
In March 2016, he suggested that the attacks may have been an inside job, comments for which he later apologised. When the venue reopened in November 2016, Hughes was allegedly refused entry. The Californian hard-rock band were on stage at the Bataclan when three terrorists entered the venue and began shooting with assault rifles and throwing hand grenades. It was one of a series of attacks in Paris that night that left 130 people dead. <a href="https://www.theguardian.com/world/ng-interactive/2015/nov/16/men-who-attacked-paris-profile-terror-cell" data-link-name="in" body link" class="u-underline">Islamic State claimed responsibility for the murders.
Read more: https://www.theguardian.com/music/2018/mar/26/eagles-of-death-metal-jesse-hughes-march-for-our-lives-bataclan