As the Republican fought to salvage his campaign in New York, eager Trump loyalists joined the likes of Ben Carson and Joe Arpaio in California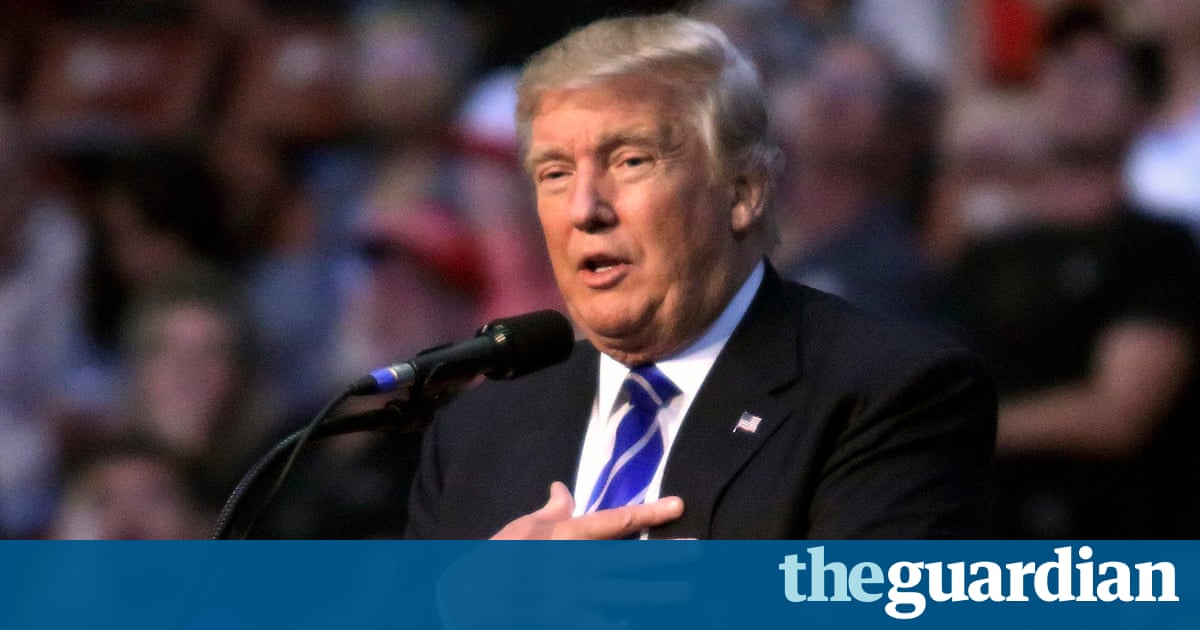 A dark day for Donald Trumps presidential hopes did yield at least one chink of light: he can be mayor of Bakersfield, California.
The Republican nominee could grope nuns, beat a pony, steal childrens lollipops, star in a porn video and still, it seems, be mayor of Bakersfield.
While party leaders across the country rescinded their support on Saturday, thousands of Trump loyalists made a show of defiance and devotion at a political jamboree in this Californian city.
They cheered and stamped at the mention of his name. Who will make America great again? Trump! Who will save the American dream? Trump! Who is imperfect, unpolished and should wash his mouth with soap but is still better than Hillary? Trump!
Instead of hunkering down with advisers in Manhattans Trump Tower to try to save his campaign, the tycoon could have basked in a parallel reality in a corner of Bakersfield where he is adored, respected and poised for coronation.
Ill be voting for Donald because our country is in trouble now and will be in worse trouble if [Clinton] gets in, said Cathy Schroeder, 73, a horse breeder. And the video of Trump boasting of groping women, which has so roiled the partys leaders ? A shrug. It was just a stupid comment. He was a private citizen then.
The punditocracy was proclaiming Trump radioactive to female voters but Michelle Mills, 52, a budget director at California State University, Bakersfield, demurred. Ive heard a little about the video, but from the get-go Ive been with Trump. We need those conservative business values in this country. We need change. And we need it quickly.
It was the same mantra on- and offstage at the Bakersfield Business Conference, dubbed one of the worlds most bizarre celebrity events: a five-yearly gathering organised by a local law firm which draws business and political leaders to a tent on a soccer field in a parched, gritty corner of California known for oilfields, cotton fields and air pollution.
Lucrative fees have drawn Ronald Reagan, Mikhail Gorbachev, Benazir Bhutto, Henry Kissinger and a certain New York businessman to previous conferences. Trump did not make it this time but devotees and proxies showed up in force, waving stars-and-stripes fans against the 86-degree heat.
The more news seeped into the tent that the likes of John McCain, John Thune, Jason Chaffetz and Kelly Ayotte were renouncing Trump, the more the 6,000-strong congregation, who paid $500 a head, thrummed with fervour for their absentee preacher.
How many here believe it would be good for him to step aside? said Laura Ingraham, a conservative talkshow host, from the podium. Silence. I thought so, she grinned.
The candidate has made some mistakes, she said, but they paled in contrast with the political establishments gross corruption and incompetence.
Novembers election will determine who was right: the pols and pundits writing Trumps political epitaph, or this baking corner of California, a splash of red in a deep blue state, which insisted he could win.
Ill be voting for Trump, said Michael Glascock, 67, a retired geologist. The video of him demeaning women in 2005? No big deal. I think 80% of Americans have made mistakes like that.
On stage, speaker after speaker minimised the videos significance and accused Democrats of doing far worse.
Teddy Kennedy killed a girl at Chappaquiddick and 11 years later ran for president. He was put forward as the conscience of the Democratic party, said Ann Coulter. Bill Clinton, she said, was a predator. Its Donald Trumps potty mouth versus an actual rapist.
Ben Carson stayed faithful to the man who beat him in the primary. People are not perfect and we have to get over that.
Herman Cain, a pizza businessman who ran for president in 2012 , invoked the Hillary spectre: You can vote for someone who has said lot of awful things or for someone who has done lot of awful things.
Trump was not polished, said Allen West, but if surrounded by good people he would address Americas priorities. I really dont care what was said 11 years ago, he said. Lets get serious about the issues that are facing this country.
Joe Arpaio, Arizonas controversial sheriff, pledged fealty to his fellow undocumented immigration basher. I wont throw Trump under the bus just for politics. I want people to know he took time six times to call my wife and he doesnt even know what my wife looks like. I said that from the beginning at least I know hes got a heart somewhere.
The sheriff hinted at his birther conspiracy about Barack Obama. The president doesnt like me because Im doing a certain investigation.
The audience cheered and mobbed the 84-year-old, who is facing criminal charges of contempt of court for ignoring orders in a racial profiling case that found that he violated Latinos civil rights. We love you, Joe! Can I shake your hand, Joe?
Bakersfield has a large Hispanic population, including many undocumented agricultural workers who quite possibly harvested the apples and strawberries served to guests.
Trumplands loyalty betrayed some cracks, however. Louisiana governor Bobby Jindal hedged when asked if the GOP standard-bearer should withdraw. Thats something hell have to decide, he told the Bakersfield Californian. Ive talked to some of the folks here who are wondering what to do.
Kevin McCarthy, the House majority leader and son of Bakersfield, and Rick Perry, the former Texas governor, ducked and weaved among the crowd and journalists, saying nothing about dumping, or not dumping, Trump.
In contrast, Bill Richardson, the former New Mexico governor and one of the events few Democrats, was emphatic: the video was fatal, he told the Bakersfield Californian. The nail in the coffin, he said, that prevents him from even making the race close. Thats my prediction.
In an electric speech, James Carville, the Democratic strategist and Clinton ally, played the role of Cassandra and said Trump was doomed. And that the audience was enabling an epic, shameful fiasco.
They had tolerated his mockery of a disabled reporter, his birther lies, his attacks against the mother of a slain soldier, he said.
You didnt leave, Carville said. None of that bothered you. It was all fine. Well now, all of a sudden its too much.
Silence.
Carville continued. No, its not the media. Its your stupid candidate. Youve got a stupid, ignorant, candidate that doesnt know what hes talking about. You oughta be embarrassed for your party. He blames everyone else but himself for going down the tubes.
More silence, then scattered boos.
Carvilles final shot: Youve got a clown and an ignoramus for a candidate. Hes an embarrassment. He got slaughtered in the debate Hes old, tired and overweight.
The ragin Cajuns irresistible force crashed against immovable Trumpers. Interviewed afterward, they seemed to consider him a carnival act, a token villains hissing to entertain them before the nights musical act: <a href="https://www.theguardian.com/music/chubby-checker" data-link-name="in" body link" class="u-underline">Chubby Checker.
Not all the guests were willing to forgive Trump. His moral standards are so low. Hes despicable, the way he treats women. Hes beneath contempt, said Kenneth Filipski, 75.
So would Filipski vote for Clinton? The Bakersfield residents eyes widened. Of course not. Im still supporting Trump. Hillarys a terrorist.
Read more: https://www.theguardian.com/us-news/2016/oct/09/donald-trump-bakersfield-california-ben-carson-laura-ingraham